Journalist Max Blumenthal Says He Was Arrested on False Charges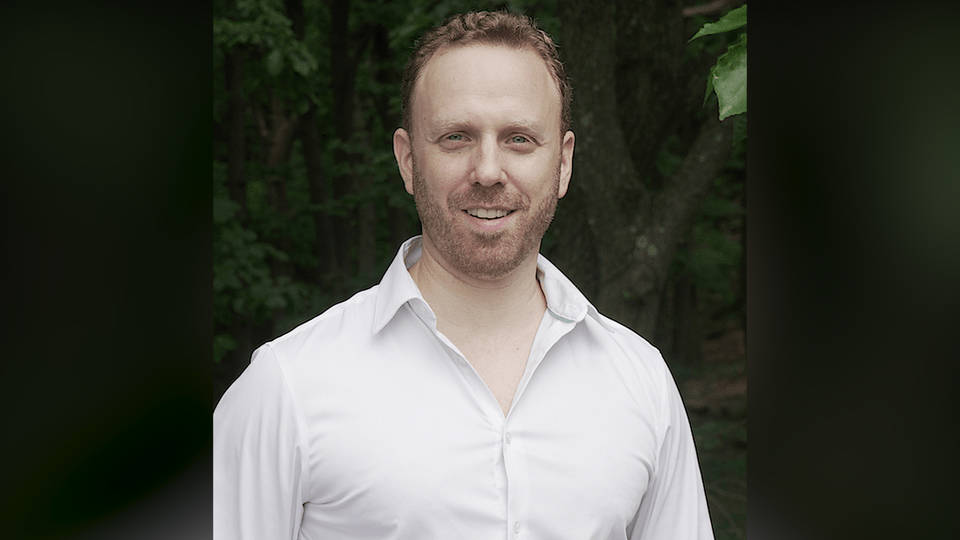 Image Credit: The Grayzone
Max Blumenthal, editor of the website The Grayzone, reports he was arrested at his home in Washington, D.C., on Oct. 25 by a team of police, in what he describes as an attack on the press. Blumenthal says he was arrested on a five-month-old warrant for assaulting a Venezuelan opposition member during protests at the Venezuelan embassy in March. Blumenthal denies the charges. He says he was held in jail for two days, shackled for five hours and denied a phone call.
More Headlines fromOctober 30, 2019
Vindman: White House Transcript of Trump Phone Call Omitted Key Words
OCT 30, 2019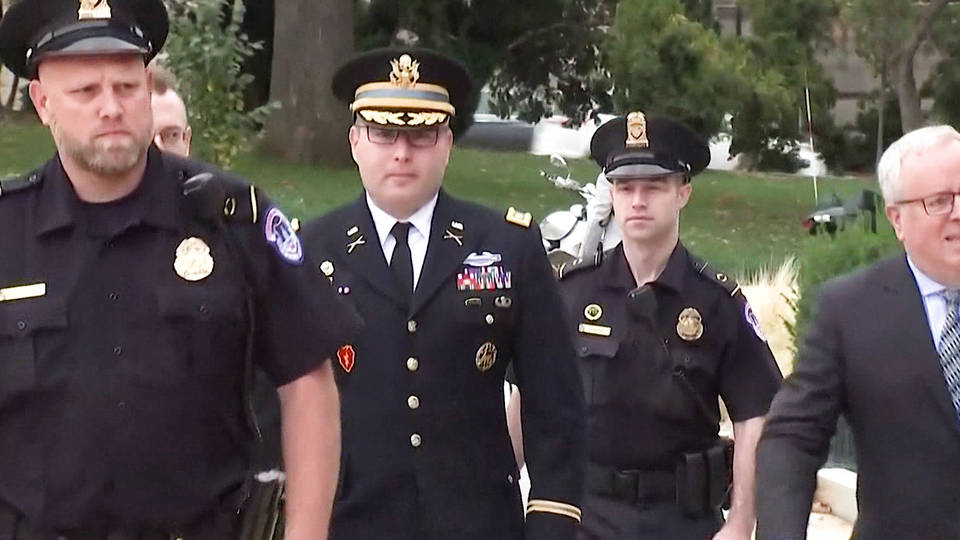 In news from Capitol Hill, Lt. Col. Alexander Vindman, the top Ukraine expert on the National Security Council, told congressional lawmakers that the White House transcript of a July 25 phone call between President Trump and Ukraine's president omitted key words and phrases. Vindman was testifying as part of the ongoing impeachment hearings into whether President Trump withheld military aid to Ukraine to pressure Ukrainian President Volodymyr Zelensky to investigate Trump's political rival Joe Biden and his son, Hunter, who served on the board of Burisma Holdings, a Ukrainian energy company. Vindman told lawmakers that the transcript of the call excluded an explicit mention of Burisma Holdings by the Ukrainian president, as well as Trump saying that there were recordings of Biden talking about Ukraine corruption. Vindman also testified that his attempts to include these omissions in the transcript failed. At moments, the closed-door testimony devolved into a screaming match as Democrats accused Republicans of trying to get Vindman to reveal the identity of the whistleblower who first reported Trump's call.
Today, lawmakers will hear testimony from two Ukraine experts who advised former U.S. special envoy to Ukraine Kurt Volker. On Thursday, Democrats are slated to formalize plans for the public phase of the impeachment inquiry with a vote.
Boeing CEO Grilled by Senate Lawmakers Over 737 MAX Failures
OCT 30, 2019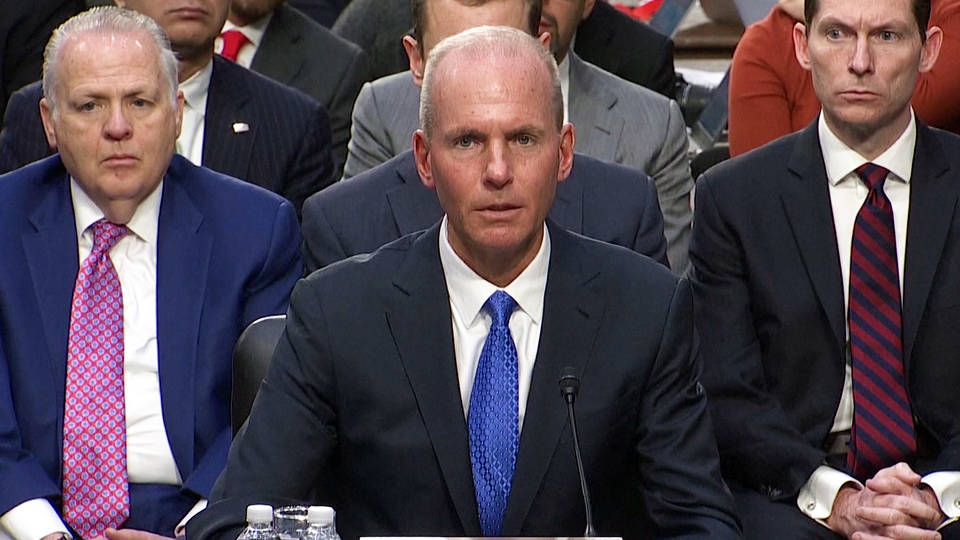 Boeing CEO Dennis Muilenburg was grilled by Senate lawmakers Tuesday over Boeing's defective 737 MAX airplane, which was grounded worldwide after two crashes in Ethiopia and Indonesia that killed all 346 people on board. This is Illinois Democratic Senator Tammy Duckworth.
Tammy Duckworth: "Boeing has not told the whole truth to this committee and to the families and to the people looking at this. Yes, the pilots did exactly what they were supposed to do. But five seconds later, especially if that sensor is still stuck, it overrides what the pilot does and it pushes the nose right back down again. Three seconds. A pilot's best friend is time and altitude. And on takeoff, there is no altitude and he's got no time."
During Tuesday's hearing, Muilenburg admitted Boeing failed to provide pilots with additional key safety system information. While he spoke, family members of the Boeing crash victims held up giant photos of their dead loved ones. Muilenburg will testify to the House Transportation and Infrastructure Committee today. The Justice Department is also conducting a criminal investigation against Boeing.
Lebanese Prime Minister Resigns Amid Massive Protests
OCT 30, 2019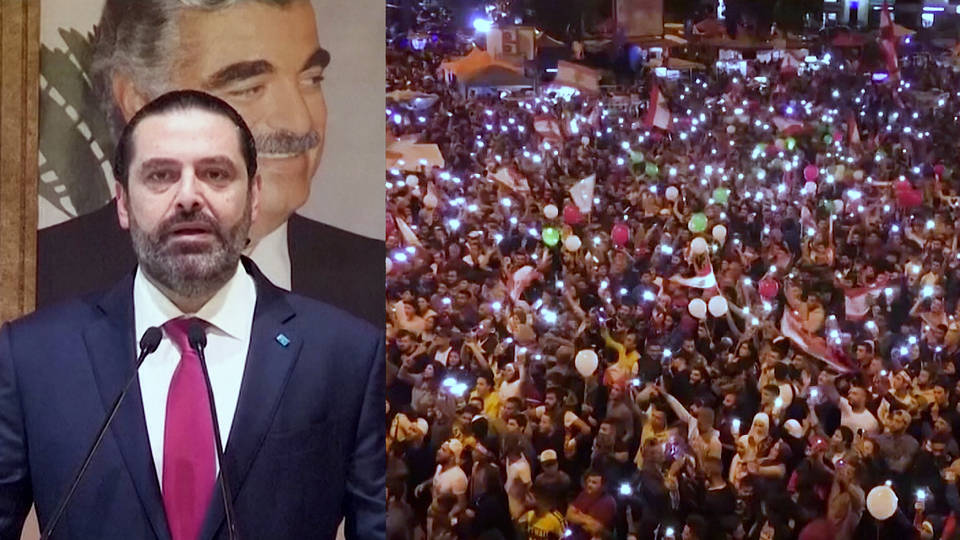 In Lebanon, thousands poured into the streets to celebrate Tuesday after Prime Minister Saad Hariri announced his resignation, amid two weeks of massive anti-government protests.
Abdullah Hammoud: "First of all we want to congratulate the people, because the party of the people won today and not one party over the other, like in the past. The people triumphed over the political feudalism in the country. We will continue in our movement and in our uprising, in our revolution to overthrow the money sharks that maintain a grasp over the country's joints."
That's protester Abdullah Hammoud. The demonstrators are continuing to call for the resignation of the rest of Lebanon's ruling elite and the formation of a new government with independent experts.
Click here
for more on the massive protests.
Tens of Thousands Pour into Baghdad's Tahrir Square as Iraq Protests Continue
OCT 30, 2019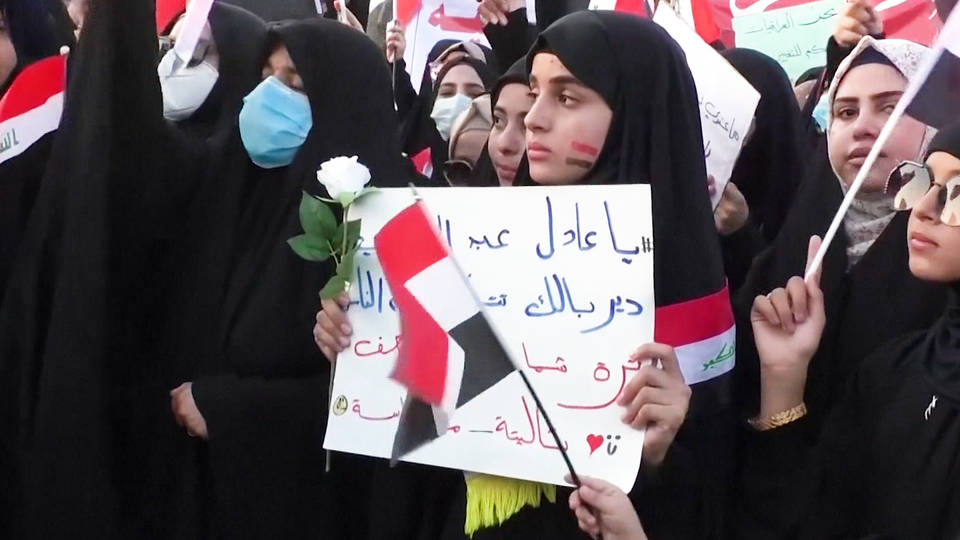 Anti-government protests are continuing in Iraq, where tens of thousands of people marched on Baghdad's Tahrir Square Tuesday night demanding the removal of the government. At least 225 people have been killed in the government's crackdown against the protests, which erupted earlier this month over corruption, mass unemployment, and the lack of basic public services. Al Jazeera reports Iraqi Prime Minister Adel Abdul Mahdi may soon be ousted, after his two main political backers, Muqtada al-Sadr and Hadi al-Amiri, agreed to work together to remove Madhi from office in response to the growing protests.
Anti-Government Protests in Haiti Enter their Seventh Week
OCT 30, 2019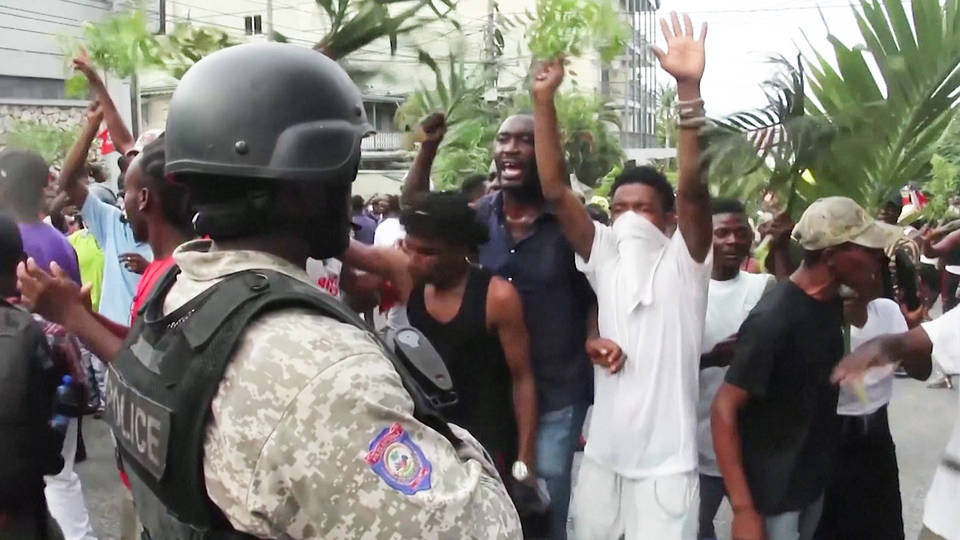 In Haiti, anti-government protests have entered their seventh week, as thousands of people again took to the streets of Port-au-Prince Monday to demand the ouster of President Jovenel Moïse. At least 20 people have been killed amid the ongoing protests, which have also shuttered schools for two million children across Haiti.
Ceasefire Between Turkey and Syrian Kurds in Northern Syria Expires
OCT 30, 2019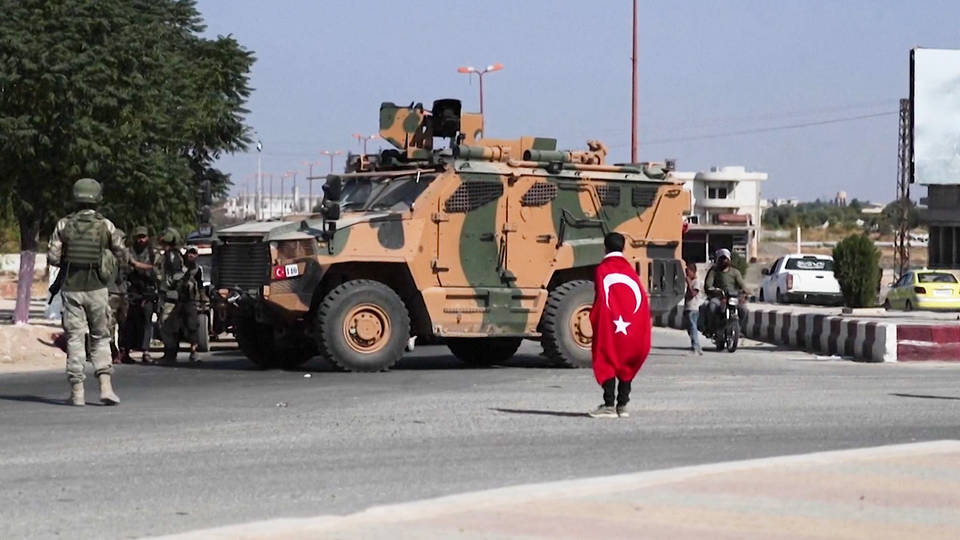 In northern Syria, the Russia-brokered ceasefire between Turkey and Syrian Kurdish fighters expired Tuesday night, threatening to reignite fighting in the region. The Turkish invasion began after President Trump abruptly withdrew U.S. troops from parts of northern Syria, clearing the way for the Turkish offensive. Turkish President Tayyip Erdogan claimed today that Syrian Kurdish fighters had not fully withdrawn from the area near the Turkish border, and said that joint Turkish-Russian patrols would resume border patrols on Friday.
House Votes for Resolution to Recognize Armenian Genocide
OCT 30, 2019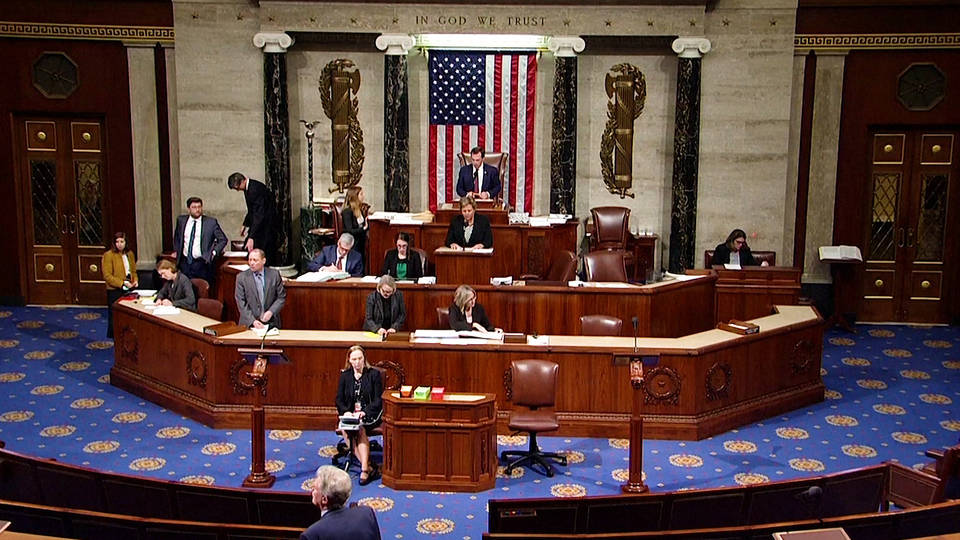 The U.S. House of Representatives overwhelmingly voted to approve a resolution recognizing the mass killings of Armenians in Turkey from 1915 to 1923 as a genocide. The 405-11 vote declares that it is now U.S. policy to commemorate the killing of 1.5 million Armenians by the Ottoman Empire as genocide. The issue has long triggered tensions between Turkey and Armenia, which to this day do not have a diplomatic relationship.
National Weather Service Issues "Extreme Red Flag Warning" over Fires
OCT 30, 2019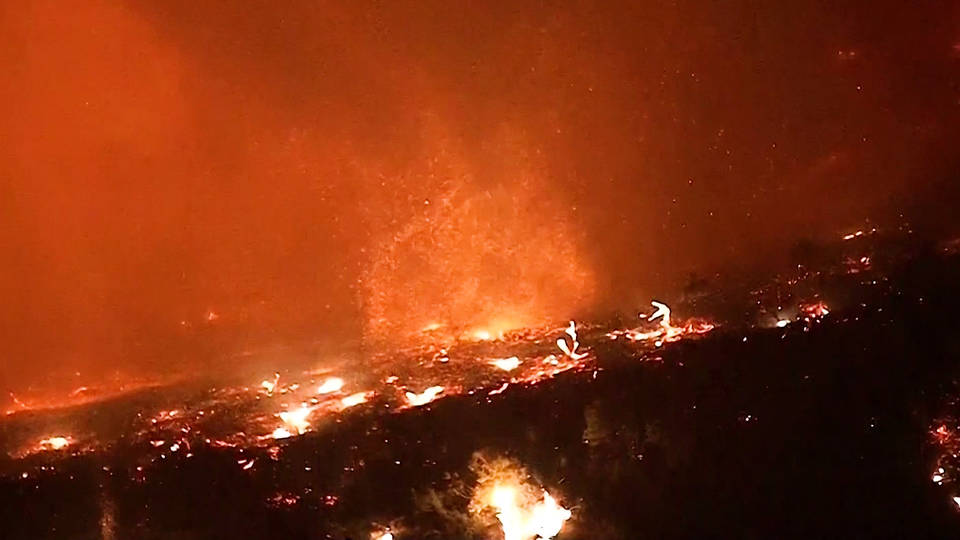 The National Weather Service in Los Angeles has issued a rare "extreme red flag warning" for Southern California as climate change-fueled wildfires continue to ravage the state. This is the first time the Weather Service has used the term extreme red flag warning, as winds up to 80-miles-an-hour threaten to spread the uncontrolled Getty Fire. California Governor Gavin Newsom declared a statewide emergency Sunday as wildfires spread from Los Angeles and Northern California, burning tens of thousands of acres and forcing the evacuation of over 180,000 people.
Protesters Slam BlackRock for Investing in Coal and Oil
OCT 30, 2019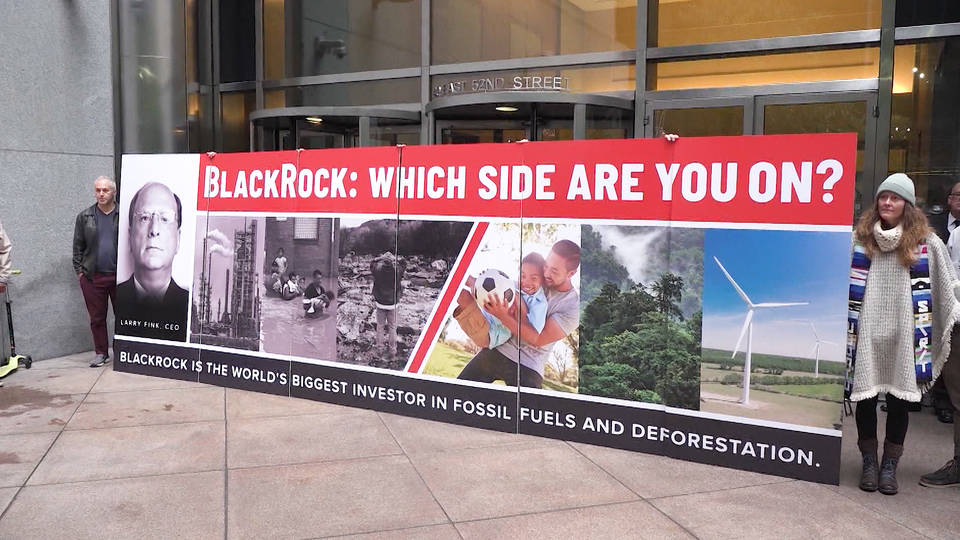 In New York, about 200 protesters rallied at the headquarters of BlackRock Tuesday, calling on the investment giant to end its support for fossil fuels and companies driving deforestation. BlackRock is one of the world's largest asset managers, with more than $6.8 trillion in assets worldwide. It's also one of the biggest investors in coal and oil. This is Reverend Kevin VanHook of Riverside Church.
Kevin VanHook: "We're here this morning because we believe that the Earth is not something that we've inherited from our past, but rather something that we are borrowing from our future. We're here this morning because we believe that our children, and their children, and their children have a right to clean air. We're here because we believe that our children, and their children, and their children have a right to clean water. We're here because we believe that our children, their children, and their children have a right to a safe planet to call home. And we who believe in freedom for this planet cannot rest until it comes."
Tuesday's protest was held on the seventh anniversary of Superstorm Sandy, which blasted New York, New Jersey and parts of New England with a record storm surge as high as 13 feet, killing 159 people and damaging more than 650,000 homes. A new study published in the journal Nature Communications warns that up to 300 million homes around the world will be affected by coastal flooding within the next 30 years amid climate-fueled sea level rise.