'The sovereign independence'
of de Oekraïne? Die heeft het Westen al langere tijd geschonden door de nazi's in de Oekraine te steunen.
'Fuck the European Union,'
zei een hoge Amerikaanse diplomaat, toen ze sprak over wie de VS in de Oekraïense regering zou plaatsen. De
NATO
zal niets doen, het heeft meegewerkt aan het ten val brengen van een democratisch gekozen Oekraïense regering, wat de mainstream opiniemakers en praatjesmakers in de Nederlandse politiek ook mogen zeggen. Laten we in elk geval ophouden politieke steun aan de Oekraïense nazi's geven, die nu door West Europese nazi's worden bijgestaan.
There are No Neo-Nazis in Ukraine. And the Obama Administration does not support Fascists
Global Research, February 24, 2014
Svoboda is a Neo-Nazi Party, Ukraine's fourth biggest party holding 36 seats out of 450 in parliament.
They're also part of the Alliance of European National Movements along with the BNP and Jobbik.
Svoboda is supported directly by Washington
.
This is Svoboda, the Neo-Nazi group that is doing the fighting in Ukraine.
Update February 24.
The BBC headlines read:
"We are putting our hopes in a new generation of politicians"
amidst unconfirmed reports that an arrest warrant has been issued for the democratically elected president.
Speaker of the Parliament Oleksandr Turchynov who allegedly issued the arrest warrant directed against President Viktor Yanukovych stated "We must move towards a national government by Tuesday". That government, were it to be formed, would be integrated by Svoboda.
Scroll down to meet the "new generation of politicians" supported and financed by the Obama administration.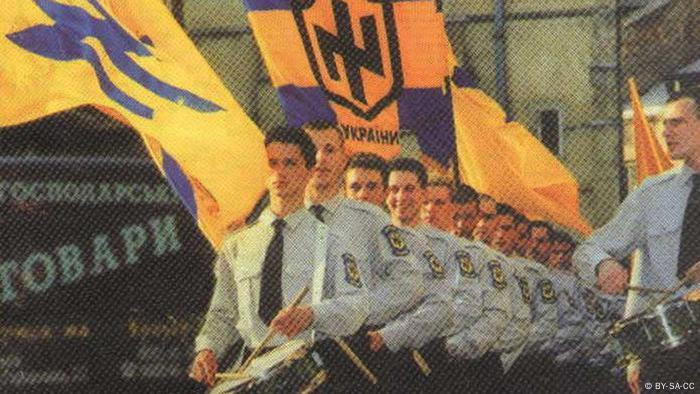 Svoboda's Oleh Tyahnybok doing their party salute when re-elected their leader.
http://www.mmo-champion.com/threads/1444332-Ukraine/page3
http://www.businessinsider.com/john-mccain-meets-oleh-tyahnybok-in-ukraine-2013-12
John McCain with leader of the Neo-Nazi Svoboda Party (right)
John McCain with leader of the Neo-Nazi Svoboda Party (right) Business Insider, Business Trip to Kiev
The situation on the ground is not as simple as pro-EU and trade versus pro-Putin and Russian hegemony in the region."
Source:
The Red Phoenix
December 2013
Russia Today. Ukrainian Neo-Nazi skinheads
Civilisation Ukrainian-Style: Vandalising the Memorials to the Soldiers of the Anti-Hitler Coalition
Reunion of SS and UPA Nazi collaborators and their supporters in 2006 in the Ukraine.
http://02varvara.wordpress.com/2008/11/28/civilisation-ukrainian-style-vandalising-the-memorials-to-the-soldiers-of-the-anti-hitler-coalition/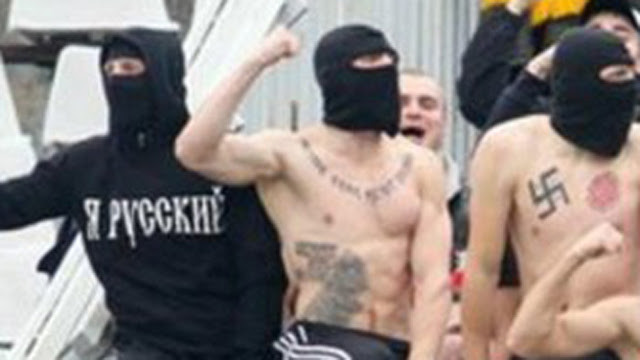 traitors by others. Some of those fighters served under or cooperated with the Nazis, seeing a chance to overthrow the Soviet regime, while others fought both the Red Army and the Nazis.
December, McCain and the leader of Svoboda, the Neo-Nazi party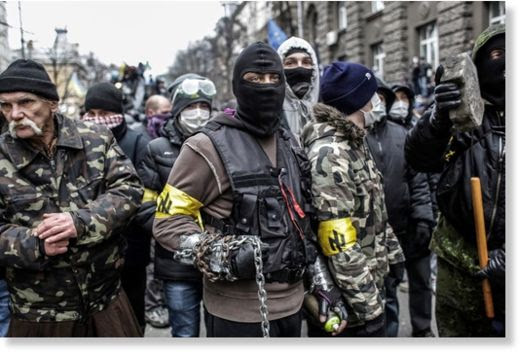 "Here protesters clash with riot police, one carries a homemade shield painted with a white power symbol and the numbers 14 and 88.
These numbers are common neo-Nazi slogans;with 14 standing for David Lane's slogan (We must secure the existence of our people and a future for White Children) and 88 as code for HH, or Heil Hitler."
http://www.sott.net/article/272680-Ukraines-fascist-Neo-Nazi-color-revolution-backed-by-US
Ukrainian Skinheads, The Times, 2006 Rally
Neo-Nazi thugs at the forefront of Ukrainian protests
Copyright © 2014 Global Research
De Oekraïne 4