zaterdag 30 april 2016
China Denies U.S. Carrier Hong Kong Visit Amid Maritime Tension




USS Stennis was scheduled to make port call in city next week

Move follows sparring over Beijing claims to South China Sea
China has denied a U.S. carrier strike group's request for a port visit to Hong Kong next week amid escalating tensions in the adjacent South China Sea.
The Chinese Ministry of Foreign Affairs notified the U.S. Thursday of its decision to deny the USS John C. Stennis and its escort ships access to the former British colony, Darragh Paradiso, a spokeswoman for the U.S. Consulate General in Hong Kong, said by phone. The ministry provided no explanation for the move, she said.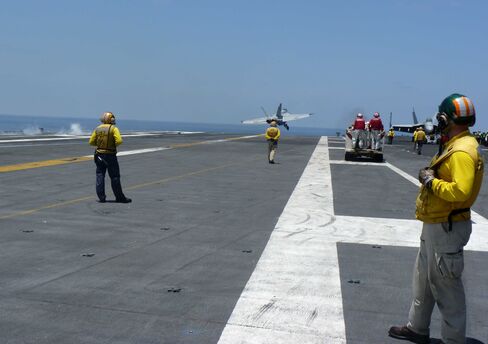 The decision follows weeks of increasing diplomatic sparring between China and the U.S. over Beijing's claims to more than 80 percent of the South China Sea. The nuclear-powered Stennis has played a central role in U.S. efforts to demonstrate its continued security presence in the disputed waters, with Defense Secretary Ashton Carter visiting the warship on
patrol
there earlier this month.
The Stennis has become a "symbol of efforts to spark strategic tensions between China and the United States," said Shi Yinhong, director of the Center on American Studies at Renmin University in Beijing and a foreign policy adviser to the State Council. "The cancellation is a snapshot of the current intensity in China-U.S. security relations. Without significant security need, routine port calls would not have been canceled."
The Ministry of Foreign Affairs didn't immediately respond to a faxed request for comment.
Port Visits
China's claims to the South China Sea have fueled disputes with other Southeast Asian nations that assert rights to the area, including Vietnam and the Philippines. Tensions are running high as the region braces for a ruling by an international arbitration panel on a Philippine challenge to China's claims.
While U.S. warships frequently visit Hong Kong, port calls have been canceled at times of diplomatic strain between the two Asia-Pacific powers. In 2007, China denied access to the city's port by the aircraft carrier, the USS Kitty Hawk.
"We have a long track record of successful port visits to Hong Kong, including with the current visit of the USS Blue Ridge, and we expect that will continue," Paradiso said, referencing the U.S. Navy command ship already moored in the city.
Beijing has reclaimed more than 3,000 acres to build up artificial islands, some of them featuring ports and runways that will allow it to better assert its claims to a waterway that hosts more than $5 trillion in annual shipping. The U.S., which is not a claimant, contends that the militarization of the islands may hinder navigation in the waters.
  Midas Dewolff Covid was een biowapen zegt expert DMartin voor de EU parlement  https://storage.blacklist.exposed/EU%20speech%20about...
  Ziehier Yoeri Albrecht, die door een jonge journalist van het mediakanaal Left Laser   betrapt werd tijdens een privé-onderonsje met twee ...

The essential component of totalitarian propaganda is artifice  (het toepassen van kunstgrepen. svh) . The ruling elites, like celebritie...