Lavrov: het Zwitserse laboratorium in Spiez zegt dat een 'BZ-toxine' is aangetroffen in Salisbury sample hetgeen niet wordt gebruikt of geproduceerd in Rusland maar in de VS en het VK.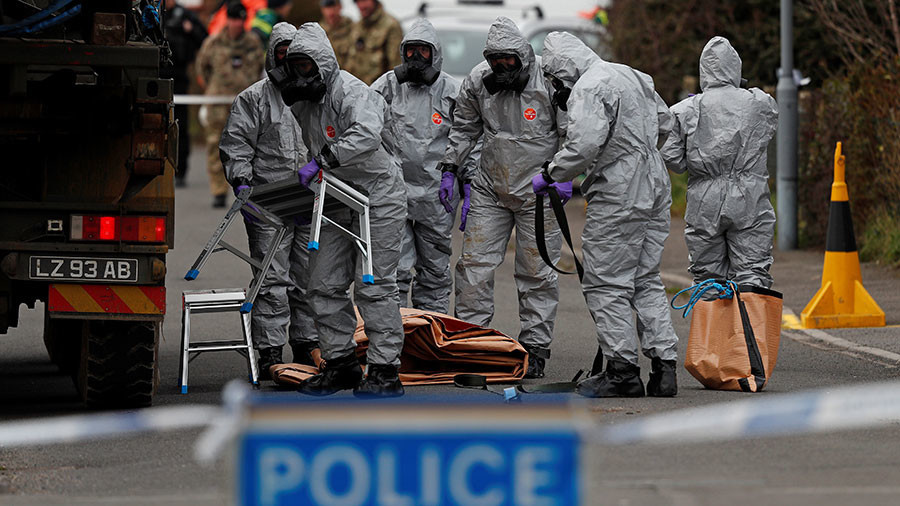 De stof die op Sergei Skripal werd gebruikt, was een gas genaamd BZ, volgens het Zwitserse Spiez-laboratorium, zei de Russische minister van Buitenlandse Zaken. Het toxine werd nooit geproduceerd in Rusland, maar was in gebruik in de VS, het VK en andere NAVO-staten.
Sergei Skripal, een voormalige Russische dubbelagent, en zijn dochter Yulia werden vergiftigd met een invaliderende toxine bekend als 3-Chinuclidinylbenzilaat of BZ, zei de Russische minister van Buitenlandse Zaken Sergey Lavrov, daarbij verwijzend naar de resultaten van het onderzoek uitgevoerd door een Zwitsers chemisch laboratorium dat met de monsters die Londen overhandigde aan de Organisatie voor het verbod op chemische wapens (OPCW).
Het Zwitserse centrum stuurde de resultaten naar de OPCW. De chemische waakhond van de VN beperkte zich in zijn eindrapport echter alleen tot het bevestigen van de formule van de stof die werd gebruikt om de Skripals te vergiftigen zonder iets te vermelden over de andere feiten die in het Zwitserse document zijn vermeld, voegde de Russische minister van Buitenlandse Zaken eraan toe.
Hij zei verder dat Moskou de OPCW zou vragen naar zijn beslissing om geen andere informatie op te nemen die door de Zwitsers in zijn rapport is verstrekt.
De Russische minister van Buitenlandse Zaken zei dat Londen weigerde om tientallen 'zeer specifieke' vragen van Moskou te beantwoorden over de Salisbury-zaak, en ook om enig substantieel bewijs te leveren dat licht op het incident zou kunnen werpen. In plaats daarvan beschuldigde het VK Rusland ervan zijn eigen vragen niet te beantwoorden, voegde hij eraan toe, in feite stelde Londen geen vragen, maar wilde van Moskou allen de erkenning horen dat het verantwoordelijk was voor de levering van de chemische agent aan het VK.
Het Spiez-laboratorium weerspiegelde de woorden van Lavrov en twitterde laat op zaterdag dat alleen de OPCW "[kan] reageren op deze bewering."
Het schandaal barstte begin maart los, toen voormalig dubbelagent Sergei Skripal en zijn dochter Yulia in kritieke toestand werden gevonden in de stad Salisbury. Topambtenaren uit het VK brachten vrijwel onmiddellijk de schuld op Rusland vast.
Moskou is van mening dat de hele Skripal-zaak niet transparant is en dat het VK in feite niet geïnteresseerd is in een onafhankelijk onderzoek. "We krijgen de indruk dat de Britse regering opzettelijk het beleid nastreeft om alle mogelijke bewijzen te vernietigen, alle resterende materialen te classificeren en een transparant onderzoek onmogelijk te maken," zei de Russische ambassadeur in het VK, Alexander Yakovenko, tijdens een persconferentie op vrijdag.