Begin mei 2014 werd bekend dat de politiek invloedrijke Janet Yellen, voorzitter de FED,
de centrale bank van de Verenigde Staten:
doesn't know whether the U.S. political system is a democracy or an oligarchy, as a recent study concluded, but that growing inequality is an issue lawmakers should address.
During a hearing on Capitol Hill, Sen. Bernie Sanders (I-Vt.) asked Yellen about a Princeton
study
that found that wealthy, well-connected individuals have far more influence over national policy than the average voter.
'All of the statistics on inequality that you've cited are ones that greatly concern me, and I think for the same reason that you're concerned about them, they can shape the ability of different groups to participate equally in a democracy and have great effects on social stability over time,' Yellen responded.
'I don't know what to call our system,' she added. 'I prefer not to give labels, but there's no question we've had the trend toward growing inequality, and I personally find it a very worrisome trend that deserves the attention of policy makers.'
Wat ter zake kundigen ook mogen verklaren, voor de mainstream-journalisten blijft als een paal boven water staan dat het Westen

'democratisch'

wordt bestuurd. Wat de feiten ook mogen bewijzen de

'vrije pers'

blijft ervan uitgaan dat het

'Westen met zijn ethische normen en waarden wezenlijk'

kan

'bijdragen'

aan de

'democratisering'

van ondermeer Rusland, tenminste op voorwaarde dat Washington en Brussel en hun

NAVO 'zich dan wel verenigd en standvastig tegenover Rusland opstellen,'

aldus chef boekenbijlage van de

NRC

, Michel Krielaars, die als enige journalist ter wereld nog voordat het onderzoek is afgerond nu al zeker weet dat

'separatisten in Oost-Oekraïne vlucht MH17 neerhaalden.'

De mainstream-journalistiek heeft geen bewijzen nodig, haar propaganda is afdoende, althans voor henzelf en hun broodheren. De anderen zijn voor hen niet belangrijk, die maken geen geschiedenis, het polder-journaille schrijft voor zijn

peergroup,

en natuurlijk de machtigen. Vandaar ook dat u telkenn weer geconfronteerd wordt met dezelfde pratende hoofden die dezelfde beweringen uiten. Hun allerlaatste succes is het feit dat ze erin zijn geslaagd Rusland af te schilderen als expansionistisch, terwijl precies het tegenovergestelde het geval is. In plaats van evenals het

Warschau-Pact

te zijn opgeheven, is de

NAVO

steeds verder richting Rusland opgerukt, waardoor het land nu aan alle kanten is ingesloten door

NAVO

-bases, van Estland via Oost-Europa en de Kaukasus helemaal tot in Centraal-Azië, en verder

naar

Japan. Daarnaast is de

NAVO veranderd van een defensief bondgenootschap in een offensieve organisatie, die overal op aarde kan worden ingezet, met of zonder een mandaat van de wereldgemeenschap. Intussen is het ledenaantal bijna verdubbeld, en besteden de NAVO-

landen tezamen meer dan 11 keer zoveel aan hun militair-industrieel complex dan Rusland aan het zijne. En toch beweert de

'vrije pers,'

bij monde van onder andere Geert Mak dat

'meneer Poetin,'

let op,

'Europa [dwingt] om meer aan defensie uit te geven!'

Deze misdadige voorstelling van zaken, waaraan corrupte journalisten hun imago en inkomen te danken hebben, blijft in Nederland onweersproken om de eenvoudige reden dat de polder geen onafhankelijke intelligentsia bezit, nagenoeg iedereen in dit kleine land is aan elkaar gelieerd. Het poldermodel zorgt ervoor dat niemand uit de pas loopt. De consensus mag koste wat kost niet worden geschonden. Degene die niet gehoorzaamt wordt uitgestoten. Hier geldt slechts één waarheid, en die laat geen millimeter ruimte over voor dissidenten. En dus kan niemand van binnenuit Hubert Smeets erop wijzen dat zijn volgende bewering een leugen is:
1 Zijn de belangrijkste vragen nu beantwoord?
De verkiezingen, die met 53 procent een lage opkomst kenden, stonden in het teken van twee vragen. Ten eerste: Europa of Rusland? De keuze voor Europa stond aan de basis van de protestbeweging Maidan tegen ex-president Janoekovitsj die in november vorig jaar een draai maakte en voor Moskou koos. Bij de parlementsverkiezingen hebben de kiezers met een meerderheid van ruim 60 procent gekozen voor de vier gematigde pro-Europese politieke partijen.
http://www.nrc.nl/handelsblad/van/2014/oktober/28/de-kiezer-sprak-maar-oekraine-tobt-verder-1432161
Boven het artikel stond ook nog in grote vet gedrukte letters dat in de Oekraïne 'De kiezer sprak…' Bij een dergelijke vervorming van de werkelijkheid moet ik altijd aan Hitler denken die in Mein Kampf stelde
that in the big lie there is always a certain force of credibility; because the broad masses of a nation are always more easily corrupted in the deeper strata of their emotional nature than consciously or voluntarily; and thus in the primitive simplicity of their minds they more readily fall victims to the big lie than the small lie, since they themselves often tell small lies in little matters but would be ashamed to resort to large-scale falsehoods. It would never come into their heads to fabricate colossal untruths, and they would not believe that others could have the impudence to distort the truth so infamously. Even though the facts which prove this to be so may be brought clearly to their minds, they will still doubt and waver and will continue to think that there may be some other explanation. For the grossly impudent lie always leaves traces behind it, even after it has been nailed down, a fact which is known to all expert liars in this world and to all who conspire together in the art of lying.
Deze beschrijving gaat op voor de Smeets' onwaarheid dat
'de kiezer' in Oekraïne heeft gesproken
. Allereerst spreekt de
'kiezer'
nooit, alleen de gekozen beroepspoliticus spreekt, de kiezer zwijgt en kiest, maar zoals gesteld: de
'grossly impudent lie always leaves traces behind it,'
vandaar het belang van onzuiver en eufemistisch taalgebruik, de suggestie in plaats van de uitgesproken bewering, het sentiment in plaats van de ratio. De volgende leugen is:
'de kiezer sprak,'
terwijl het hier slechts 52 procent van alle kiesgerechtigden betreft, 31 procent, dus nog geen éénderde (!) van allen die mochten stemmen. Had
'de kiezer'
maar gesproken, dan was duidelijk geweest wat de overgrote meerderheid van het Oekraïense electoraat had gekozen. Nu nam maar liefst 48 procent van de kiesgerechtigden niet de moeite gebruik te maken van zijn democratisch recht te stemmen, een recht waarvoor maandenlang een bloedige burgeroorlog werd uitgevochten. Althans, althans... zo deed de westerse mainstream-pers het al die tijd voorkomen. Door ook nog eens

deze

bewuste vertekening te verzwijgen probeert opiniemaker Smeets eveneens zijn
'grossly impudent lie'
te verdoezelen.
De Amerikaanse emeritus hoogleraar Arno J. Mayer, die aan Princeton University doceerde zei naar aanleiding van de oorlogshetze voorafgaand aan de illegale inval in Irak dat er
'an incredible drumbeat'
bestond
'of manipulation by the media,'
waaraan hij toevoegde:
The full power and influence of the media and the fact that there are so few genuine dissenting voices that can be heard, whether this be on radio, on television or in the print media.
In my more mischievous moments I am inclined to think that Goebbels... could be proud of the way the media in the U.S. in particular manage to... control, channel, and set limits to the kind of discussion that is admissible.
Men mag Mayer zonder overdrijven een ervaringsdeskundige noemen, als jood moest hij voorafgaand aan de Tweede Wereldoorlog Europa ontvluchten. Er zijn meer overeenkomsten tussen de nazi-media destijds en de westerse mainstream-media nu. De Amerikaanse cultuurcriticus Edmund White:
I don't want to exaggerate but I think there are comparisons between the United States now and the rise of Hitler in Germany. For instance: for the burning of the Reichstag you have 9/11, which creates an emergency situation which allows the government to justify abrogating lots of civil liberties and stifling opposition. Anybody who isn't for the government is declared unpatriotic.
Than, just as Hitler had started one war after another, in the same way America is brewing these wars, specifically the war in Iraq. So that creates another crisis situation that requires lots of people in uniform to go some place. And again, you have to be patriotic and love the army, and love our boys, and you don't dare oppose any of that, or you are seen as a traitor.
And than, just as Hitler stigmatized the jews, in America I think, we are stigmatizing the Arab Americans.
De westerse massamedia verspreiden leugens, zoals iedere journalist uit eigen ervaring weet. Hoewel dit door de praatjesmakers van de polderpers zoveel mogelijk geheim wordt gehouden, zijn er genoeg voorbeelden te geven. In The War You Don't See uit 2010 van de bekende onderzoeksjournalist John Pilger, wordt de corrupte rol van de westerse mainstream-pers belicht met betrekking tot de bloedbaden in Irak, Afghanistan en in de door Israel bezette Palestijnse gebieden.
Former
CIA
analyst Professor
Melvin Goodman
states that part of the
Pentagon
's almost 1 billion annual propaganda budget is used to manipulate the news. US Principal Deputy Assistant Secretary of Defense for Public Affairs Bryan G. Whitman states that most western media reports came from the 700 embedded reporters. Former
CBS news
anchor
Dan Rather
, former
BBC
world affairs reporter
Rageh Omaar
and former
Observer
journalist
David Rose
admit to not having done their jobs properly within this regard.
In The Guardian van vrijdag 10 december 2010 schreef Pilger:
Rageh Omaar
, who was there for the BBC, reported on the main evening news: 'People have come out welcoming [the Americans], holding up V-signs. This is an image taking place across the whole of the Iraqi capital.' In fact, across most of Iraq, largely unreported, the bloody conquest and destruction of a whole society was well under way.
In The War You Don't See, Omaar speaks with admirable frankness. 'I didn't really do my job properly,' he says. 'I'd hold my hand up and say that one didn't press the most uncomfortable buttons hard enough.' He describes how British military propaganda successfully manipulated coverage of the fall of Basra, which BBC News 24 reported as having fallen '17 times.' This coverage, he says, was 'a giant echo chamber.'
The sheer magnitude of Iraqi suffering in the onslaught had little place in the news. Standing outside 10 Downing St, on the night of the invasion,
Andrew Marr
, then the BBC's political editor, declared, '[Tony Blair] said that they would be able to take Baghdad without a bloodbath and that in the end the Iraqis would be celebrating, and on both of those points he has been proved conclusively right…' I asked Marr for an interview, but received no reply. In studies of the television coverage by the University of Wales, Cardiff, and
Media Tenor
, the BBC's coverage was found to reflect overwhelmingly the government line and that reports of civilian suffering were relegated. Media Tenor places the BBC and America's CBS at the bottom of a league of western broadcasters in the time they allotted to opposition to the invasion. 'I am perfectly open to the accusation that we were hoodwinked,' said
Jeremy Paxman, talking about Iraq's non-existent weapons of mass destruction to a group of students last year
. 'Clearly we were.' As a highly paid professional broadcaster, he omitted to say why he was hoodwinked.
Dan Rather, who was the CBS news anchor for 24 years, was less reticent. 'There was a fear in every newsroom in America," he told me, 'a fear of losing your job… the fear of being stuck with some label, unpatriotic or otherwise.' Rather says war has made 'stenographers out of us' and that had journalists questioned the deceptions that led to the Iraq war, instead of amplifying them, the invasion would not have happened. This is a view now shared by a number of senior journalists I interviewed in the US.
In Britain, David Rose, whose Observer articles played a major part in falsely linking Saddam Hussein to al-Qaida and 9/11, gave me a courageous interview in which he said, 'I can make no excuses… What happened [in Iraq] was a crime, a crime on a very large scale…'
'Does that make journalists accomplices?' I asked him.
'Yes . . . unwitting perhaps, but yes.'
Overal in 'het beschaafde Westen,
' wordt de bevolking met propagandaleugens gemobiliseerd. Dit feit is inherent aan systemen die geen tegenstand dulden. Uiteindelijk grijpt een plutocratie de macht en wijkt de democratie voor een totalitair functionerende plutocratie, gesteund door een technocratisch en bureaucratisch apparaat. De bekende Amerikaanse historicus, wijlen Howard Zinn constateerde voor zijn dood:
'Men who have no respect for human life or for freedom or justice have taken over this beautiful country of ours.'
Hier was sprake van een onzichtbare
'regime-change,'
dankzij de onmisbare steun van de commerciële massamedia, anders was het de plutocraten niet gelukt om de macht te grijpen. Dat is zelfs de belangrijkste taak van de mainstream-pers om de macht te rechtvaardigen. Het hele bestel is daarop afgestemd, zoals Howard Zinn duidelijk maakte:
The American Constitution was founded in order to control class conflict! The Founding Fathers, people like James Madison, said it very explicitly. They need to control the conflict that occurs between people who own property and people who don't own property. So from the beginning we always had classes and class conflicts, there always has been a 'they,' and 'they' consists of political leaders who are in close connection with the business interests of the country, the corporate interests who are in close connection with the military. You will see the same people going back and forth from the military to the government to the corporations. So there is a very close connection between these groups, the political, the military, the corporate. 'They.' And 'we' is the 95 or perhaps even 99 percent of the American population, the people who don't benefit from this control of the wealth and this control of the government by a small elite.
Waar de westerse burger sinds de val van de Sovjet-Unie getuige van is, heet in het Engels een 'systemic crisis,' een diepe crisis van het huidige kapitalisme, dat wil zeggen: de interne tegenstellingen die het neoliberalisme oproept zijn uiteindelijk onoplosbaar geworden. Door ondermeer de technologische ontwikkeling is een aanzienlijk deel van de eigen bevolking overtollig geraakt en vormt daardoor een toenemende bedreiging voor de elite. Dat is op straat zichtbaar door vooral de militarisering van de politie. Meer verholen is het verlies aan burgerrechten door de uitholling van de rechtstaat, met als argument dat de 'nationale veiligheid,' dan wel de 'security' op straat almaar moet worden verhoogd. De politie, de veiligheidsdiensten (what is in a name?) de geheime diensten hebben na 11 september 2001 ruim baan gekregen, en geen burger die meer weet wat waar en niet waar is. Ondertussen gaat de cyberwar van de totalitaire staat ongestoord en ongecontroleerd door ten koste van de democratie. Door de ongekende mogelijkheden van de hypermoderne 'cyberwarfare' kan, buiten de insiders om, nu al niemand meer weten wie daadwerkelijk de MH-17 neerschoot. In de huidige virtuele wereld geldt het volgende:
Digital conflict, by its very nature, is a shadow conflict and therefore fundamentally psychological. If you lose touch with central command or you suspect the enemy is messing with your communications, you become isolated. You fire at your own side, shoot down your warplanes. In fact, you're likely to stop shooting altogether, out of confusion and paralysis, as happened in some military bases in Georgia. And now is happening in Ukraine. You don't know if the coded messages telling you to refrain from firing are a feint or genuine. In a modern war between two sides with hardware i.e. not a guerrilla war, line-of-sight engagements occur less often than you'd think. Tanks and planes and artillery get knocked out from afar. Digital certainty is everything. The absence of it spells disaster.
Daar komt nog een griezelig aspect bij, namelijk het feit dat democratische politici bereid zijn de democratie uit te hollen. Een vrij willekeurig voorbeeld gaf de oud-activist en huidige sociaaldemocratische voorman Diederik Samsom in februari 2014, nadat via de Tweede Kamercommissie voor de Inlichtingen- en Veiligheidsdiensten was uitgelekt dat Nederland zelf 1,8 miljoen Nederlandse telefoongesprekken had overgedragen aan de NSA:
Samsom zei het te betreuren dat informatie uit de commissie stiekem is gelekt, ongeacht of die informatie klopt. Het lekken uit de commissie zou in elk geval 'nooit' door hemzelf zijn gebeurd. De fractievoorzitters hebben afspraken gemaakt om te voorkomen dat er opnieuw wordt gelekt.
Dat Nederland 1,8 miljoen belgegevens aan de Amerikaanse afluisterdienst NSA heeft doorgespeeld, is wel degelijk besproken met de oppositiepartijen. Dat blijkt uit een reconstructie van NRC Handelsblad.
De destijds 42-jarige politicus Samsom is, net als de overgrote meerderheid van de volksvertegenwoordigers, bereid om schendingen van de democratie geheim te houden. Dit is de genadeslag voor de parlementaire democratie, al was het maar omdat 'what you don't see backstage is what really controls the show,' zoals de Britse actrice Sarah Sutton zo scherpzinnig samenvatte.
De situatie krijgt vandaag de dag een totalitaire dimensie doordat de gecorrumpeerde
'vrije pers'
de spreekbuis is van de neoliberale macht en bereid blijkt om uiterst relevante informatie achter te houden. Ik geef een voorbeeld: de toenemende gevaren van de
'blowback'
die de geheime CIA-terreur veroorzaakt, wordt door de polderpers voortdurend verzwegen, alsof er geen onvoorziene consequenties zouden bestaan. In het begin van zijn boek
Blowback. The Costs and Consequences of American Empire
(2004)
schreef de gezaghebbende Amerikaanse geleerde en
CIA
consultant, wijlen Chalmers Johnson dat de Verenigde Staten na de Koude Oorlog in plaats van te demobiliseren zijn imperium met geweld uitbreidde. Hij verklaart deze ontwikkeling als volgt:
Ik denk dat de belangrijkste reden is wat men met een technische term noemt: 'Militair Keynesianisme,' waarmee aangegeven wordt dat het militair-industrieel complex, de wapenindustrie, een integraal onderdeel is geworden van de Amerikaanse economie. In toenemende mate fabriceren wij in de Verenigde Staten niet zoveel. We hebben gezien hoe in de afgelopen decennia onze economie ernstig is uitgehold. Daarentegen produceren we wel massaal wapens, een buitengewoon lucratieve zaak, we verkopen ze wereldwijd. Het heeft nagenoeg niets te maken met de defensie van ons land maar alles met de commerciële belangen van de wapenindustrie. Die industrie is buitengewoon wonderlijk, het heeft maar één klant, er bestaat nauwelijks enige concurrentie en het is geen kapitalisme, maar staatssocialisme. Ik ben van mening dat het belangrijkste punt is dat de beleidsbepalers in de Verenigde Staten zich in 1991, ten tijde van de ineenstorting van de Sovjet Unie, zich simpelweg niet konden voorstellen dat hun economie zou groeien zonder door te gaan met het militair-industrieel complex en dus met de wapenindustrie. Meer algemeen gesproken was de Verenigde Staten eraan gewend geraakt een imperium te bezitten en om op elk continent de dienst uit te maken, te geloven dat het praktisch overal bij elk besluit betrokken moest zijn. Tegelijkertijd was het al in 1991 niet langer meer in een economische positie om zijn wereldwijd imperium te handhaven. Desondanks zocht het onmiddellijk na de val van de Sovjet Unie naar en vervangende vijand terwijl het zich dat niet kon permitteren.
Eén van kwalijkste aspecten van het besluit om als het ware de Koude Oorlog voort te zetten was het feit dat de Verenigde Staten geen rekening hield met de mogelijkheid dat het dezelfde weg zou opgaan als de Sovjet Unie. Ook wij zijn in steeds grotere problemen geraakt door 'imperial overstretch' (dat wil zeggen: het rijk kost meer dan het opbrengt), door een toenemend economisch verval en door de overmatige afhankelijkheid van de wapenindustrie. Daarnaast krijgen we steeds meer te maken met wat de CIA noemt "blowback," een term daterend uit 1953 toen de Amerikaanse overheid in het geheim betrokken was bij de omverwerping van een democratisch gekozen buitenlandse regering, te weten de Iraanse premier Mohammed Mossadeq die de oliebronnen had genationaliseerd. Blowback betekent de onbedoelde consequenties van geheime buitenlandse operaties. Het is daarbij belangrijk te benadrukken dat het wraakneming betreft voor buitenlandse operaties die volstrekt geheim gehouden werden voor het Amerikaanse publiek, natuurlijk niet voor de slachtoffers ervan. Het resultaat is dat zodra er represailles volgen de Amerikaanse burger volstrekt onvoorbereid is en de gebeurtenissen niet kan zien in termen van oorzaak en gevolg. De aanslagen van 11 september 2001 zijn het duidelijkste voorbeeld daarvan. In plaats van te vragen waarom ze ons haten, had president Bush zich beter kunnen afvragen wie op aarde ons niet haat, en ons haat met goede redenen.
Precies hetzelfde proces van 'Militair Keynesianisme' voltrok zich na de ineenstorting van de Sovjet-Unie in begin jaren negentig, en opnieuw speelde de propaganda van de westerse mainstream-media een doorslaggevende rol bij het legitimeren van het militair-industrieel complex, dat nu de macht volledig naar zich toe heeft getrokken. Dit is de belangrijkste reden waarom de NAVO tegenwoordig overal ter wereld met maximaal geweld kan worden ingezet. Tegelijkertijd kan de ene opiniemaker op televisie onweersproken beweren dat 'We véél te weinig bij[dragen] aan de NAVO,' en een andere corrupte journalist stelt dat 'meneer Poetin, met zijn 'landjepik' Europa 'dwingt om meer aan defensie uit te geven.' Daarover later meer.
Over 200 Killed In Fighting Over Libya's Benghazi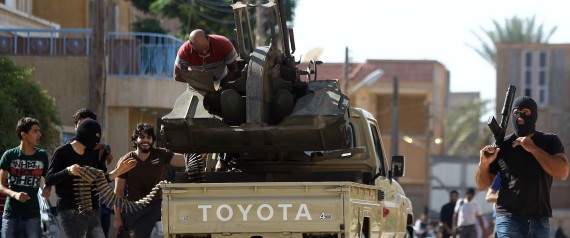 CAIRO (AP) — A Libyan medical official says at least 210 people have been killed in fighting in Benghazi since troops loyal to the country's elected government launched an attempt to re-take the city from Islamist militias two weeks earlier.
In comments Sunday, the official would not identify those killed. The battle for control of Benghazi, Libya's second largest city, still rages. The troops, under the command of a renegade general, had largely fought from bases outside the city. On Oct. 15, the elected government joined forces with them and young fighters from the city, broadening the offensive.
A security official said government troops have entered a new neighborhood and also arrested a spokesman for the Islamist militias. Both officials spoke on condition of anonymity because they weren't authorized to brief reporters.
Dit is het resultaat van de gewelddadig NAVO-interventie in Libië, onder de mom van 'humanitair ingrijpen.' De polderpers zwijgt nu.