A Large Area of Open Water Forms in the Melting Sea Ice North of Greenland During February
Warm winds blowing at up to gale force intensity from the south have assaulted the ice with high waves and above-freezing temperatures for about four days now. The ice edge north of Svalbard is being rapidly beaten back. Perhaps more disturbing, is the fact that the ice pack to the north of Greenland has also now withdrawn — opening up a huge polynya.
(Massive hole in the sea ice expands north of Greenland on February 26th. Image source:
NASA
.)
Looking at the N. Greenland area, we find a fractured, thinning mess along a region of sea ice that should be meters thick and growing thicker at this time in February. Such a state would be remarkable during summer time, but is much more-so in what should be the dark chill of winter polar night.
Temperatures are still breaking records at North Greenland. +6 C (43 F) for a daily high is not just a record for February, it beats the highest temperature observed at this site in March or April as well. This is roughly 35 C (63 F) above normal for this time of year.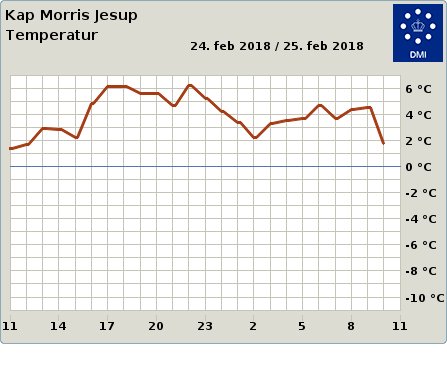 7 antwoorden
186 retweets
128 vind-ik-leuks
Nieuw gesprek

So, apparently DMI has a reading from Morris Jesup of +7.8 C on Feb. 12, 2011. The GSOD archive of Morris Jesup that I have been relying on only gives a high of +5.4 C on that day. Assuming the DMI reading is authoritative, then the recent +6 C is actually not a record.

2 antwoorden

6 retweets

8 vind-ik-leuks

An updated time series for Cape Morris Jesup, Northern Greenland using DMI's hourly values. The last 10 days have seen a series of swings near and above freezing.

3 antwoorden

19 retweets

23 vind-ik-leuks

In 2018, there have already been 61 hours above freezing at Cape Morris Jesup, Greenland. The previous record was 16 hours before the end of April in 2011.

5 antwoorden

126 retweets

115 vind-ik-leuks
Closer to the massive expanse of water opening up in the ice, Cape Morris Jesup, the furthest north point in Greenland,
has now experienced 61 melting hours during winter in 2018
. This is comparable to 2011, which set the previous record for winter and early spring melt at 16 hours for the Morris Jesup location. This weekend, the typically frigid point on Greenland's north coast saw
a 43 degree Fahrenheit high
in the 24-hour-long darkness (no sunlight or insolation) and at a time when usual daily peak readings hit a frosty -20 F.
The underside of sea ice melts at around -2 F, due to the salt content in the water. But surface portions of the ice still need above freezing temps to result in melt and ponding. Since this region of the Arctic tends to remain near or well below freezing year-round, the present temperatures are enabling
unprecedented winter damage to the ice
and the environments it supports.
There is open water north of
#Greenland
where the thickest sea ice of the
#Arctic
used to be. It is not refreezing quickly because air temperatures are above zero confirmed by
@dmidk
's weather station
#KapMorrisJesup
. Wacky weather continues with scary strength and persistence.
27 antwoorden
1.099 retweets
1.019 vind-ik-leuks
These record daily and seasonal lows are occurring following
a major loss of ice in the Bering Sea
and in concert with the rapid sea ice setbacks we are presently seeing on the Atlantic side.
It is possible, given the present trend, that the Arctic will experience back-to-back years of record low seasonal ice during winter. 2016-2017 saw a crash in winter sea ice and we are presently even below the record low extents seen at that time.
(Arctic Basin sea ice is at record lows and trending lower. Image source:
The Arctic Sea Ice Blog
. Graph by Wipneus.)
Overall, though, the tale so far has been one of highly unusual melt and warming. One that highlights the serious and worsening impacts of human-caused warming and related polar amplification.
(UPDATES TO FOLLOW)
Link ophalen

Facebook

Twitter

Pinterest

Google+

E-mail

Andere apps