De Witte Helmen als vluchteling naar Europa met hulp van de NAVO en Israël
DONEER EN STEUN ONS WERK
DONATE AND SUPPORT US:
IBAN: NL10 SNSB 0902 6349 33
Voordat ik verdere artikelen schrijf over mijn bevindingen, afgelopen 2 weken in Syrië, moet ik toch een artikel wijden aan de Witte Helmen, een Al-Queda hulporganisatie, gesponsord door het westen, m.n. Nederland speelt een verderfelijke rol in deze zaak! Natuurlijk heb ik veel Syriërs gevraagd tijdens mijn reis, hoe zij over deze groep denken, alle gaven hetzelfde antwoordt: Terroristen, die een onderdeel van Al-Queda zijn, zij waren alleen daar, in Oost-Ghouta, Oost-Aleppo en Dara'a, waar de terroristen de Syrische dorpen bezetten, daarna door het het SAA zijn gedood, of meegegaan in de "groene bussen" naar Idlib, of zoals we nu weten, op weg naar Europa, daar sponsoren de Europese belastingbetalers nu verder het terrorisme, ik noem het NATO staatsterrorisme!
Deze uitspraken op de NOS, maken mij en veel Syrische mensen erg ziek en het is compleet walgelijk, zo zie je duidelijk de link tussen politiek, media en het steunen van terroristische organisaties: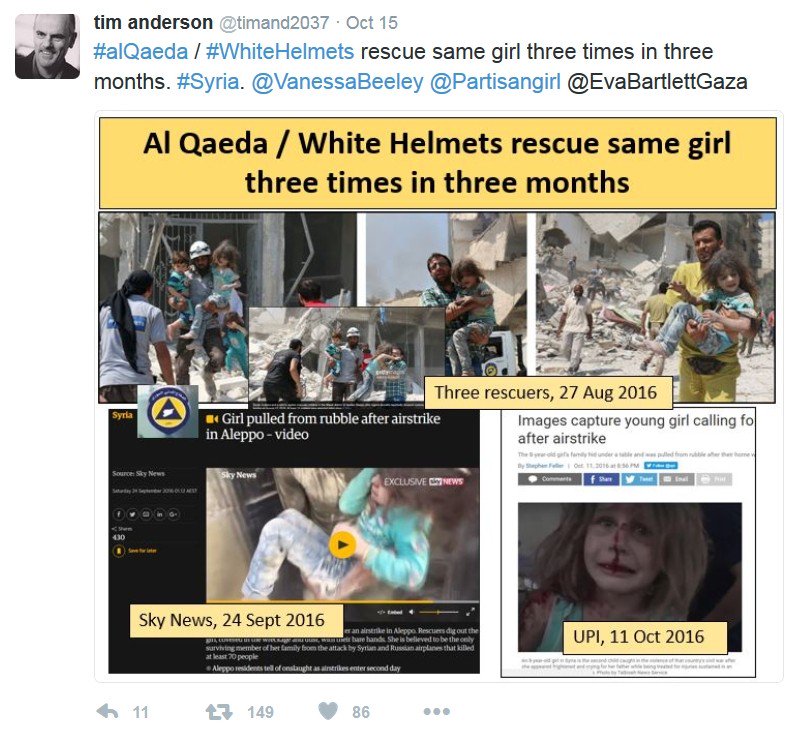 Nota bene, het Israëlische leger, die de terroristen beschermde en ook dagelijks Palestijnen afschiet, minderjarige kinderen in de gevangenis gooit en een totalitair regime heeft. Hoe ver kun je gaan, hoe ver kun je gaan om de ogen te sluiten en ze rebellen te blijven noemen, terwijl de meerderheid van de Syrische bevolking hen terroristen van Al-Queda noemt (de Witte Helmen). Diverse onderzoeks journalisten daadwerkelijk met vele bewijzen, aangetoond hebben dat de Witte Helmen een onderdeel van Al-Queda zijn en als klap op de vuurpijl wij ontdekt hebben, via 65 facebook profielen, dat zij aanhanger en sympathie hebben voor IS en andere terreur groepen. Deze acties zijn crimineel, crimineel tegenover de Syrische en Europese bevolking.
M.n. tegenover de Syrische bevolking, omdat deze groeperingen honderduizenden mensen vermoord hebben en crimineel tegenover de Europese bevolking, omdat zij een potentieel gevaar vormen voor aanslagen en mede verantwoordlijk zijn voor de criminele daden die zij op hun naam hebben!