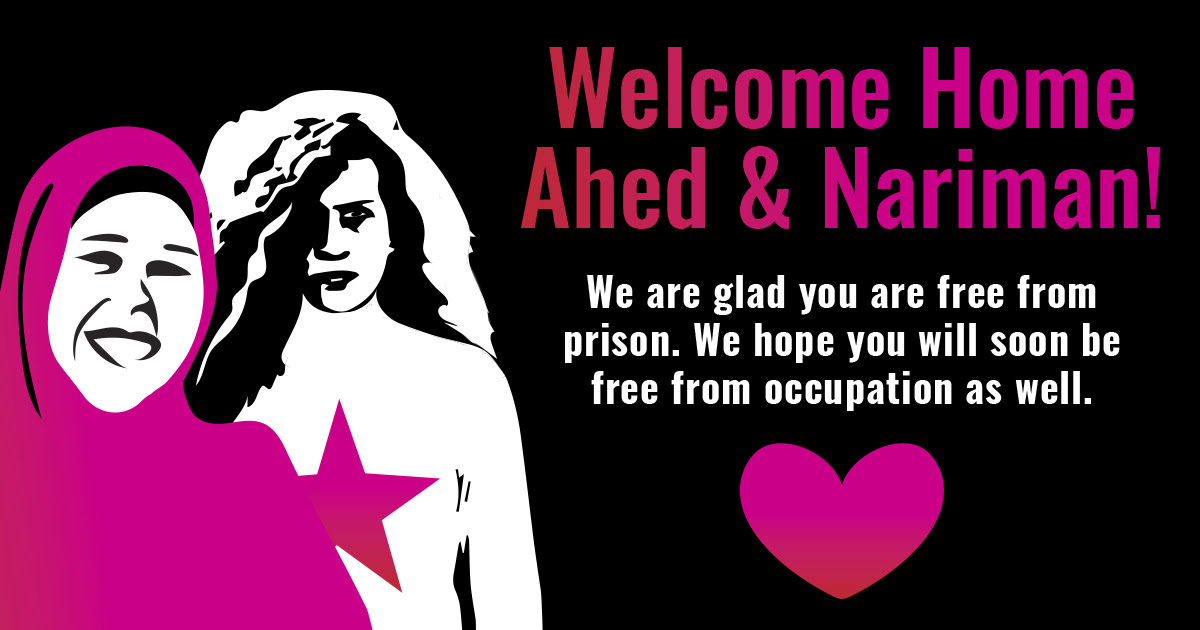 Dear stan,
I am so happy to share this news with you: in three days, on Sunday, seventeen-year-old Ahed Tamimi will be released from Israeli prison. Her mother, Nariman, will be released as well.
Add your name to our welcome home card to Ahed and Nariman. Thank them for their bravery and steadfastness. Tell them you support their struggle for freedom.
Ahed and Nariman have been imprisoned since December 19, 2017, following a video that went viral of Ahed slapping a soldier who was trying to invade her home. Ahed, then sixteen, was charged with assault for the actions she took with her bare hands against a fully armed and protected soldier. Her mother was charged with incitement for filming the incident on Facebook live.
Israel initially wanted to sentence Ahed for up to a decade. Some Israeli politicians even called for her to spend her whole life in prison. But, thanks to worldwide support for Ahed and outrage at what Israel was trying to doing to her, she received an eight-month sentence under a plea agreement. The eight months will officially be up on August 19, and Ahed's lawyer just received confirmation from the court that Ahed and Nariman will be released 21 days early, this Sunday!
Sign our welcome home card to Ahed and Nariman. Tell them you are glad they are being freed from prison, and hope they will soon be free from occupation.
We will continue to keep you updated about Ahed's release and all that she and her family continue to do for freedom and justice in Palestine.
Sending love to Ahed and Nariman,
Ariel and everyone at CODEPINK