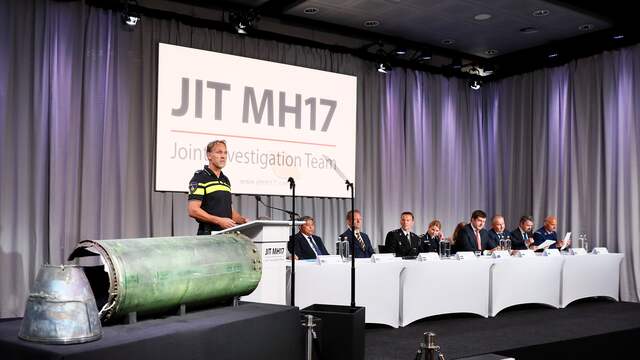 JIT: Buk-raket die MH17 neerhaalde van Russisch leger, Rusland ontkent
De Buk-raketinstallatie die in 2014 vlucht MH17 neerschoot boven Oost-Oekraïne was van het Russische leger. Dat is een van de tussentijdse conclusies van het Joint Investigations Team (JIT). Rusland ontkent echter. Er zou geen raketinstallatie van Rusland naar Oekraïne zijn gebracht.




Toestel volgens JIT neergeschoten met Buk-raket
Raket en lanceerinstallatie afkomstig van Russisch leger
Rusland ontkent
JIT heeft meer bewijslast verzameld
Team vraagt mensen die meer weten zich te melden
Berechting daders zal in Nederland zijn
Het JIT, het internationale samenwerkingsverband dat de aanval op de lijnvlucht onderzoekt, maakte haar bevindingen donderdag bekend. Kort daarop kwam Rusland met een reactie.
Volgens het land is nog nooit een Russische raketinstallatie over de grens van Rusland naar Oekraïne gegaan. Het Russische ministerie van Defensie laat weten niets met het neerschieten van vlucht MH17 te maken hebben gehad.
Uit beelden van de raketinstallatie bleek dat die unieke uiterlijke kenmerken bezat, meldt Wilbert Paulissen, hoofd van de Nationale Recherche en onderdeel van het Joint Investigation Team.
Na uitvoerige vergelijkingen met andere Buk TELAR-installaties werd duidelijk dat de installatie in kwestie afkomstig was van de 53e raketafweerbrigade uit Koersk in Rusland, die deel uitmaakt van de Russische krijgsmacht. Ook getuigenverklaringen bevestigen dat, aldus het team.
Daarmee heeft de JIT dezelfde bevindingen als het onderzoekscollectief Bellingcat, dat vorig jaar ook concludeerde dat de Buk-installatie afkomstig was van de Russische militaire eenheid in kwestie. De onderzoekseenheid verrichtte het eigen onderzoek onafhankelijk van het Bellingcat-onderzoek.
Route
Aan de hand van onder meer video's en foto's op sociale media werd vrijwel de hele route van het konvooi van zeker zes Buk-installaties, dat van de Russische basis naar Oekraïne reed, gereconstrueerd. Die reconstructie werd op de persconferentie vertoond.
De 'vingerafdruk' die werd gevormd door de uiterlijke markeringen op de lanceerinstallatie die MH17 neerhaalde, kwam alleen overeen met een specifieke Buk TELAR-installatie uit dat konvooi, waarvan de aanwezigheid in het Oost-Oekraïense Donetsk is vastgesteld.
Getuigen
Het onderzoeksteam dat het neerhalen van vlucht MH17 onderzoekt, heeft vier vragen: wie maakte deel uit van de bemanning, met welke instructie ging die bemanning op pad op de dag van de crash, wie was verantwoordelijk en wie heeft meer informatie over procedures en verantwoordelijkheden binnen de brigade?
Het onderzoeksteam hoopt op reacties van mensen die op een of andere manier betrokken zijn geweest bij het gebruik van de Buk-lanceerinstallatie.
Getuigen die naar voren willen stappen, maar zich zorgen maken over hun veiligheid, kunnen in de vijf JIT-landen aanspraak maken op verschillende programma's voor getuigenbescherming, aldus het onderzoeksteam.
Het JIT-team zei eerder het "vervelend" te vinden dat Rusland niet alle informatie aanlevert waar het team om heeft gevraagd. De informatie over de afkomst van de Buk-installatie is dan ook niet van tevoren gedeeld met de Russische autoriteiten. "Ze kunnen het volgen op de livestream."
Verdachten
Vlucht MH17 van Malaysia Airlines werd op 17 juli 2014 boven Oost-Oekraïne uit de lucht geschoten door een Buk-raket, een wapen van Russische makelij. Alle 298 inzittenden kwamen om. Onder hen waren 196 Nederlanders.
In het JIT werken Australië, België, Maleisië, Nederland en Oekraïne nauw samen. Het doel van het onderzoeksteam is te achterhalen waarom het toestel werd neergehaald en de verdachten voor de rechter te brengen. Bij het onderzoeksteam zijn enkele tientallen personen in beeld die mogelijk betrokken waren bij de 53e brigade of de inzet van de Buk-installatie.
Wanneer het tot een rechtszaak zal komen, is nog onduidelijk. Het antwoord is complex, aldus Fred Westerbeke, hoofdofficier bij het Landelijk Parket en JIT-onderzoeksleider. "We weten gewoon nog niet wanneer we daar genoeg informatie voor hebben. Ik kan wel zeggen: we zitten in de laatste fase van het onderzoek. Maar er is nog veel werk te doen."
Westerbeke voorspelt wel dat de personen achter het neerhalen van MH17 "binnen vijf jaar" voor de rechter zullen staan. Eerder werd al duidelijk dat de rechtbank in Den Haag de zaak zal behandelen.