US holds Russia 'ultimately responsible' amid reports of dozens gassed in Syria's Douma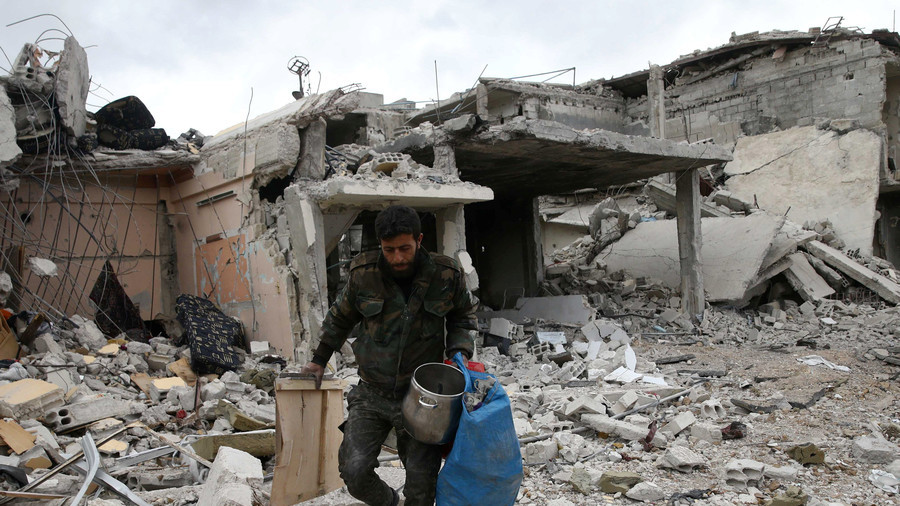 The US once again said Russia is "ultimately bearing responsibility" for all chemical incidents in Syria, regardless of who carried them out, after rebel sources accused Damascus of gassing dozens in Eastern Ghouta's Douma.
"The regime's history of using chemical weapons against its own people is not in dispute," said the US State Department, indicating, however, that it was relying on "reports," being unable to confirm the incident. "Russia ultimately bears responsibility for the brutal targeting of countless Syrians with chemical weapons."
Earlier on Saturday, rebel-linked activists, including the notorious 'civil defense' group White Helmets, accused the Syrian government of carrying out a chemical attack that allegedly affected dozens of civilians in the militant-controlled town of Douma in Eastern Ghouta. The Syrian government, which regards the White Helmets as a foreign-funded terrorist propaganda mouthpiece, rejected these "fabrications."
Read more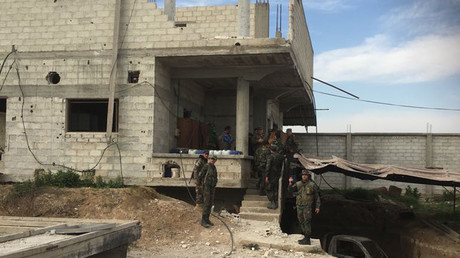 "Jaish al-Islam terrorists are repeating the allegations of using chemical weapons in order to accuse the Syrian Arab army, in a blatant attempt to hinder the Army's advance,"
Sana
reported
, citing an official government source, who added that militants have likely launched this latest propaganda campaign fearing their imminent
"dramatic collapse."
Despite the lack of verified evidence thus far, Washington did not miss a chance to label Moscow as complicit and 'ultimately' responsible for the incident, due to its support of President Bashar Assad. Previously, former Secretary of State Rex Tillerson regularly took advantage of well-timed reports of chemical incidents, including in East Ghouta, to push through the US agenda in Syria.
"We continue to receive reports and assess information regarding the alleged attack,"
the US Department of State's representative
told
Sputnik in a separate statement on Saturday.
"Russia's protection of the Assad regime and failure to stop the use of chemical weapons in Syria calls into question its commitment to resolving the overall crisis."
In a follow-up comment, the State Department urged the international community to act "immediately" – if the incident is confirmed – and advised Russia to end its "unmitigated" support for the Syrian government.
US blames Russia for new reported chemical incident in Syria... regardless of who actually did it
https://
on.rt.com/8xl3
Reports of chemical attacks, blamed on Damascus, previously surfaced on a number of occasions, and were often backed by a stream of horrific visuals disseminated via social media channels by the White Helmets. Saturday's incident follows the same pattern, where, as always, the White Helmets found themselves at the right place at the right time to take graphic pictures of the alleged chemical attack victims. Shocking
images
of dead kids with foaming mouths surfaced immediately after the accusations were made.
Read more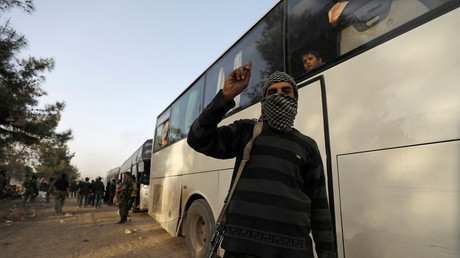 "Seventy people suffocated to death and hundreds still suffocating,"
Raed al-Saleh, head of the White Helmets,
told
Al Jazeera, adding that the death toll was expected to rise as many people were in critical condition. According to al-Saleh, the mass casualties are a result of a chlorine gas attack, as well as an
"unidentified but stronger gas,"
that was allegedly dropped by government planes on Douma on Saturday.
Quite surprisingly, the controversial UK-based Syrian Observatory for Human Rights, which is usually among the first sources that confirm atrocities by Damascus,
could not confirm
that chemical weapons had been used, and said casualties might have been a result of fire and toxic smoke following a conventional airstrike. Thus Reuters, while admitting it
"could not independently verify reports of a chemical attack,"
sought a comment from another obscure organization, the Syrian American Medical Society. A US-based SAMS representative claimed that, while a
"chlorine bomb hit Douma hospital,"
another nearby building was targeted by a barrel-bomb containing a mix that included
"nerve agents."
The situation in Douma escalated after Jaish al-Islam militants breached all agreements, shelling Damascus and terrorizing civilians to derail evacuations, the Russian Reconciliation Center in Syria said in its daily report, issued before the claims of a chemical attack emerged.
"The Jaish al-Islam militants carried out a number of attacks against the SAA [Syrian Armed Forces] positions and conducted mortar and missile shelling against Damascus," the Russian Center for Reconciliation in Syria said Saturday. "Over the last 48 hours, militants fired 25 mines and rocket projectiles at the capital and its suburbs. As a result, seven civilians were killed and 42 people injured. Shelling attacks are intensifying."
Terrorists also continue to use civilians as human shields, the MoD noted, adding that militants are "publicly executing civilians" who support the withdrawal of militants from Douma.
Investigate chemical incidents in Syria instead of blaming Damascus & distorting our views – Moscow
"Jaish al-Islam terrorists breached [the] Douma agreement by attacking with mortar and rocket shells several residential areas of Damascus, claiming lives and injuring dozens of civilians, including women and children," Sana meanwhile reported.
Previously faced with accusations, Moscow has repeatedly denied involvement in attacking civilians in Syria, and reiterated on a number of occasions that unsubstantiated reports of atrocities and 'false flag' chemical incidents always surface at the time when militant factions in Syria are losing ground, and are likely aimed at derailing the reconciliation process in Syria.
WOENSDAG 21 MAART 2018
US Planning a Terrorist False Flag Chemical Attack in Syria: Russia Says It Will Respond
By Federico Pieraccini
March 20, 2018 "Information Clearing House" - Events in Syria increasingly resemble a direct confrontation between major powers rather than a proxy war. Lavrov's words, delivered a few days ago, reveal the critical phase of international relations the world is going through, with a potentially devastating conflict ready to ignite in the Middle East region.
An alarming warning by Sergei Lavrov and Chief of the Russian General Staff, Valery Gerasimov, was announced via the RT broadcaster and several Russian media. The content is explosive and deserving of the widest possible dissemination. Gerasimov claimed that Moscow had "reliable information that fighters are preparing to stage the use by government troops of chemical weapons against the civilian population." He alleged that the US intends to accuse Assad's troops of using chemical weapons against civilians, and then "carry out a bombing attack" on Damascus. Gerasimov warned that Russia would "take retaliatory measures" if the US targeted areas where its military are located in the Syrian capital. "Russian military advisers, representatives of the Center for Reconciliation and members of military police" are currently in the Syrian capital, Gerasimov said, adding that in the event that the lives of Russian military personnel are placed in danger, the Russian Armed Forces will respond with certain measure to both "missiles" and their "launchers". A few hours earlier, Lavrov responded, "criticizing the remarks by the US envoy to the UN, Nikki Haley, about Washington's readiness to "bomb Damascus and even the presidential palace of Bashar Assad, regardless [of the] presence of the Russian representatives there." "It is an absolutely irresponsible statement," the Russian top diplomat added.
The words of Gerasimov are even more dire, since he explains how the United States and its allies are preparing the ground to justify an attack on Syria. According to reports, terrorists stationed in Al-Tanf (an illegal US military base in Syria) received 20 tons of chlorine gas and detonators, disguised as cigarette packs, in order to attack in an area under the control of the terrorists that is densely inhabited by civilians. What would then happen is already obvious, with the White Helmets (AKA Al-Qaeda) and mainstream media ready to broadcast the images of the victims of the attack, tugging at the heartstrings of Western viewers otherwise unaware of the conspiracy being played out. Efforts to frame Russia have already reached the highest alert levels, with the false-flag poisoning of the Russian spy in the United Kingdom. It seems that there is a significant effort by the United States, the United Kingdom, France and Germany to provoke a military confrontation with Moscow. How else are we able to interpret threats from Macron to strike Damascus, together with his ominous advice to foreign journalists not to go to Damascus in the coming days and, for those already there, to leave the capital immediately? There has even been chatter within diplomatic circles that suggest that UN personnel are leaving Damascus. This could be psychological warfare, or it could be a prelude to war. With the stakes so high, we cannot afford to ignore any detail, even if it may be disinformation. The American attack seems imminent, with mounting signs of movements of American and Russian warships in the Mediterranean in attack formation.
Russian military representatives have reiterated that in the event of an attack, they will respond by hitting both the missiles launched as well as the ships from which the missiles were launched. Things are getting pretty dicey, and the risk of a direct confrontation between the United States and the Russian Federation are rising with every passing hour. The transfer of numerous US aircraft from Incirlik, Turkey, to Al-Azrak, Jordan, is another indication of preparations for an attack, since the forces moved to Jordan are close to the Al-Tanf base. The proposed strategy could involve an assault on the city of Daraa, for the purposes of securing the borders between Syria and Jordan and Syria and Israel.
The warnings raised by Lavrov and Gerasimov appear unprecedented, given that they detail a plan already set in course, evidently approved at the highest levels and aimed at provoking and justifying an attack on Syria; and attack that would encompass the Russian forces in Syria. Tensions continue to grow, following Russia's shooting down of a drone by two surface-to-air missiles launched from its Hmeimim Air Base. Moscow has even deployed to the Mediterranean the Admiral Grigorovich-class frigate Admiral Essen and the Krivak II-class anti-submarine frigate Pytivyy. Both are prepared for anti-ship and anti-submarine operations. Sources claim that this deployment was planned some time ago and is part of a routine deployment of the Russian navy. But during such a delicate moment, it pays to focus on every detail. Without resorting to excessive alarmism, if Lavrov said that "the movements of the warships of the United States and its allies in the Mediterranean seem compatible with the strategy of using this chemical attack to justify an attack on the Syrian Arab army and government installations", then it is reasonable to speculate on whether the Russian ships are moving in to the area to counter any provocations.
There are two fundamental flaws in the reasoning of US policy-makers and the US military establishment. They are convinced that an American demonstration of strength (involving a large number of cruise missile launched against Syria through a significant involvement of aircraft carriers as well as bombers) would stun Russia into passivity. Furthermore, US military generals are convinced that Syria and Russia do not have the ability to defend themselves for an extended period of time. They seem to be fooling themselves with their own propaganda. As their Israeli colleagues have already learned, such an assumption is mistaken. While the idea that a high level of firepower would meet with some kind of success, the possibility of a response from Syrian and Russian forces remains. And this possibility seems not to have been given sufficient weight by the US and her allies.
How would the American military and the Trump presidency react to a US warship being sunk by anti-ship missiles? It would only serve to demonstrate how vulnerable American naval forces are when confronted with such advanced weapons. It would represent a tremendous shock for the US military, possibly the biggest shock since the end of WWII. What would Trump and the generals in charge do? They would respond with further bombardment of Russian forces, leaving themselves open to a devastating Russian response. The conflict could escalate within the space of a few minutes, leading to a situation where there could be no possible winners.
The normal reasoning I employ when considering total annihilation is placed to one side when US special forces deliver 20 tons of chlorine gas to Al Qaeda terrorists in Syria order to execute a false flag for the purposes of blaming Damascus and Moscow. If we connect this event to what is currently happening in the United Kingdom, and the hysteria in the United States surrounding alleged Russian hacking during the American elections, we can understand just how much international relations have deteriorated. This situation is reminiscent of Ukraine in 2015. Ukrainian forces suffered repeated defeats at the hands of the Donbass resistance, being contained in the thousands in different "cauldrons. Within NATO headquarters in Brussels during that time, there were open discussion over sending a contingent to support Ukrainian troops. The plan, however, was never realized, given the possibility of direct confrontation in Ukraine between the Russian Federation and NATO.
In recent months, the possibility of a war on the Korean Peninsula has also been evoked and perhaps simultaneously averted by the unpredictable consequences for both Seoul and the American forces in the region.
In Syria, the approach of Washington and its diplomatic and military emissaries seems more reckless and less tied to a chain of command where the buck stops at the American president. It seems that the US deep state in Syria has a greater and more hidden control over American forces, sabotaging every agreement made between Moscow and Washington. We saw this during the Obama presidency, where the US Air Force bombed government troops in Deir ez-Zor only a few hours after a ceasefire had been reached between Lavrov and Secretary of State Kerry.
The grave circumstance about which we write seem to be without precedent, seeming as they do to lead towards a direct confrontation between nuclear-armed powers. Alas, in such circumstances, we can only hope for the best but prepare for the worst; we can only wait to read on the mainstream media notifications of the latest chemical attack in Syria. We can only hope that there is someone in Washington retaining enough sense to factor in the devastating consequences of an attack on Damascus and the Russian forces in the region.
Never before has the region been on the verge of such an explosion as in the next few hours -- as a result of the typically reckless actions of the United States.
Federico Pieraccini : Independent freelance writer specialized in international affairs, conflicts, politics and strategies
This article was originally published by "Strategic Culture Foundation" -
=====
Trump says he will meet Putin to discuss 'arms race that is getting out of control'
http://www.informationclearinghouse.info/49037.htm


Mattis Threatens Military Action Over Syria Gas Attack Claims, Then Admits "No Evidence"
Mattis Threatens Military Action Over Syria Gas Attack Claims, Then Admits "No Evidence"
"I don't have the evidence," Mattis said. "What I am saying is that other groups on the ground - NGOs, fighters on the ground - have said that sarin has been used, so we are looking for evidence."
This week the American public was once again bombarded by fresh headlines alleging the Syrian government under President Bashar al-Assad gassed its own people. And in predictable fashion the usual threat of US military force soon followed.
Except of course rather than "alleging" a chemical incident, all the usual suspects from CNN pundits to State Department bureaucrats to Pentagon officials in typical fashion are opting for the simpler
"Assad did it" narrative
. State Department spokesperson Heather Nauert
stated Thursday
,
"Russia is making the wrong choice by not exercising its unique influence. To allow the Syria regime to use chemical weapons against its own people is unconscionable. We will pursue accountability."

The White Helmets published this photo on Thursday, claiming that its "volunteer was suffocated by the chlorine gas attack". It appears that this is the "NGO" Defense Secretary Jim Mattis referenced on Friday to say "open sources" say Assad is using chemical weapons.
Nauert's statement was a repeat of talking points from
last week's chemical attack claims
, wherein both she and Secretary of State Rex Tillerson ultimately blamed Russia. But like with other recent chemical attack allegations,
the claims couldn't be more vague or poorly sourced
, yet was still enough for U.S. officials to issue
more direct threats of US military action against Assad.
While addressing the prior East Ghouta incident during a talk on January 23rd,
Tillerson let slip
that he didn't actually know much about the supposed earlier January attack at all while still putting blame squarely on Syria and Russia, saying at the time,
"
Whoever conducted the attacks
Russia ultimately bears responsibility for the victims in eastern Ghouta and countless other Syrians targeted with chemical weapons since Russia became involved in Syria."
This week the "evidence" doesn't appear to be any clearer or narrowed.
On Friday Defense Secretary Jim Mattis addressed the latest claims, confidently asserting the Syrian government had as a matter of routine used chlorine as a weapon against the remaining pockets of opposition areas of the country - specifically in the Damascus suburb of East Ghouta,
but it appears at this point that even Reuters has suddenly found its journalistic skepticism...
Yes, actual knowledge on whether or not there was even a chemical attack to begin with is indeed thin enough for Reuters to headline its own report with
"Mattis says has no evidence of sarin gas used in Syria, but concerned"
.
Mattis, in line with the rest of the administration -
especially the State Department
- did his best to paint a scenario of the case being all but certain that the Syrian Army has been using chlorine gas to attack civilians,
while also suggesting Sarin may have been deployed as well
, which could serve as a "red line" triggering US military attack on the Syrian government.
Mattis, speaking with reporters, said the Syrian government had repeatedly used chlorine as a weapon. He stressed that the United States did not have evidence of sarin gas use.

"We are even more concerned about the possibility of sarin use, (but) I don't have the evidence," Mattis said. "What I am saying is that other groups on the ground - NGOs, fighters on the ground - have said that sarin has been used, so we are looking for evidence."
And according to
CNN
,
Mattis is now merely going on "open source" information
, which essentially means anything from media reports to YouTube to Twitter to mere "opposition sources say...". CNN reports
the following
:
"You have all seen how we reacted to that [referencing the April 2017 US airstrike], so they'd be ill advised to go back to violating the chemical convention"... Mattis acknowledged that the US has not seen direct evidence of the use of Sarin gas but pointed to open source reports. "I don't have the evidence... We are looking for evidence. I don't have evidence credible or uncredible."
Like with previous allegations, US government officials are issuing threats of military action based on NGO's and fighters on the ground.
Mattis acknowledged that the U.S. HAS NOT SEEN DIRECT EVIDENCE of the use of Sarin gas but pointed to open source reports" Open source? Seriously?
Indeed the group only operates in areas controlled by al-Qaeda (HTS) and other anti-government insurgents, especially in the locations of recent alleged attacks - Idlib and East Ghouta.
Now that unverified claims of chemical attack incidents in Syria (and their subsequent uncritical amplification by media and politicians) have become routine, the following somewhat obvious observations need to be recalled:
The Assad government has long been winning the war, what incentive does it have to do the one thing (use CW) that would hasten its demise?
The US is a party to the conflict, so its claims must be evaluated accordingly.
The "NGOs and fighters on the ground" (in Mattis' own words) are an even more direct party to the conflict.
The only way anti-Assad fighters can survive at this point is by triggering massive US military intervention (by claiming "Assad is gassing his own people!").
The greater the momentum of Syria/Russia/Iran forces in defeating jihadists on Syrian territory, the more frequent the claims of chemical attacks become - issued from those very jihadists suffering near certain defeat.
In the midst of a grinding 7-year long "fog of war" conflict involving constant claims and counterclaims, mere "open source" information means nothing in terms of proof or hard evidence.
Al-Qaeda administers the locations from which chemical attack allegations are being made.
US officials stand ready to make use of "chemical attack" claims with or without "evidence credible or uncredible" (in Mattis' words) anytime further pressure needs to be applied toward Russia or Syria.
Extraordinary claims demand extraordinary evidence (Iraq WMD anyone?).
Sitting at my desk in Boston I have absolutely no direct insight into who used what weapon in Syria, so I don't pretend to know. What I will say is Assad has strong incentives not to use chemical weapons again whereas regime change supporters have every incentive to say he did.
Russian MoD gives warning: US is preparing a chemical false flag attack in Syria to justify US attack
Sat, 17 Mar 2018 00:41 UTC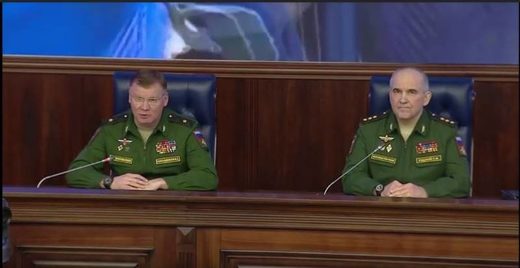 Today, Chief of the Main Operational Directorate of the Russian General Staff Colonel General Sergei Rudskoy and spokesman of the Russian Defence Ministry Major General Igor Konashenkov held briefing in the National Centre for State Defence Control.
According to Sergei Rudskoy, in late February, situation in the Eastern Ghouta, suburbs of Damascus, has been complicated due to actions of the Jabhat al-Nusra terrorist organization and other armed formations joined to it. These armed formations activated military actions against the government troops and intensified shelling of living quarters of Damascus.
Acting strict to the UN Security Council Resolution 2401 dating from February 24, the Syrian government troops are eliminating Jabhat al-Nusra terrorists taken position in the Eastern Ghouta.
In order to prevent casualties among civilians, under the auspices of the Russian Reconciliation Centre, the humanitarian pause has been established since February 28. Humanitarian corridors have been organized in order to let civilians leave the area as well as to evacuate injured from the Eastern Ghouta.
Civilians are leaving Arbil, Douma, Kafr Batna, Sabqa, Hamouriyah, and Hazze through the special corridors.
Situation in the Eastern Ghouta has changed critically. Everyone can witness the unique humanitarian operation.
This morning, 27,610 civilians have passed through the humanitarian corridor. In total, 44,639 civilians have left the Eastern Ghouta.
Necessary infrastructure for receiving and transportation of refugees has been deployed near the humanitarian corridors. Under the auspices of Russian troops, post[s] providing hot meal and medical assistance have been organized. Additional places for injured people have been deployed in the nearest hospitals.
It is possible to watch webcast demonstrating civilians leaving the Eastern Ghouta via webcams and unmanned aerial vehicles on the official website of the Russian Defence Ministry and central Russian TV channels.
A number of insurgents' formations are ready to lay down their arms and leave the Eastern Ghouta. However, they are waiting for a command
from their foreign patrons.
The Russian party appeals for all forces influencing on illegal armed formations to promote their leaving from the area in order to prevent unnecessary casualties.
Over the past week, three humanitarian convoys have been delivered in the Eastern Ghouta. Civilians have received 445 tons of food and medical supplies as well as bare necessities. Another UN humanitarian convoy consisting of 25 trucks will reach Douma in order to provide assistance to civilians.
All actions aimed to evacuate civilians and provide humanitarian assistance are organized and held by the Russian Reconciliation Centre jointly with the Syrian authorities. Representatives of the United Nations and other international organizations are observing these actions.
Such actions by the Russian Centre are held in other Syrian regions.
In total, 3,806 civilians have left the Idlib de-escalation zone for Aleppo province through the humanitarian corridor located near Abu Duhur and Tel Sultan. The corridor has been organized by the Russia-Iran-Turkey Joint Coordination Centre.
Therefore, 23,841 people have returned to the areas located to the east from the Euphrates, Deir ez-Zor provinces. More than 12,000 people have returned to the settlement of Salkhiyah. The Russian Coordination Centre is located in the settlement.
It is be stressed that insurgents do not stop taking efforts to organize provocations with the use of poisonous agents in order to accuse the government troops of using chemical weapons against civilians.
In regard to information about preparation of provocations by insurgents in the Eastern Ghouta,
the Russian party has evidence that American instructors have trained several groups of insurgents near al-Tanfa in order to hold provocations with chemical weapons in the south of Syria.
In the early March, the sabotage groups were deployed in the southern de-escalation zone near Daraa. Formations of so-called Free Syrian Army are located there.
They are preparing provocations using explosive devices fitted with poisonous agents. In the future, this fact will be used in order to accuse the government troops of using chemical weapons.
Components for these chemical munitions have already been transported to the southern de-escalation zone under cover of humanitarian convoys of a number of non-governmental organizations.
Insurgents have not only components for poisonous agents but also detonating fuses camouflaged as packs with cigarettes.
Besides, the Jabhat al-Nusra armed formations with support of so-called 'White Helmets' are preparing staged chemical attack near the settlements of al-Habid and Qalb Luza located 25 km northwest Idlib. Therefore, 20 containers with chloride have been delivered there.
It is planned that the event shall be widely broadcast in the western mass media.
Such provocations will give the USA and its coalition grounds for an attack against military and government facilities in Syria.
"
The Russian Ministry of Defence stressed that there is clear evidence of preparations for the possible strikes. There are groups of missile carriers deployed in eastern part of the Mediterranean Sea, Persian Gulf and Red Sea. It causes a question – whom will the USA support with these strikes? Will it be the Jabhat al-Nusra and its affiliates that commit outrages in the country? The Russian General Staff continues monitoring situation in the Syrian Arab Republic
," said Colonel General Sergei Rudskoy.
The official representative of the Russian Ministry of Defence Major General Igor Konashenkov further stressed that over the recent years, months and even days, there has been a lot of criticism towards the Russian Federation, and especially the Russian Ministry of Defence, concerning disastrous situation in the Eastern Ghouta and necessity of urgent humanitarian aid. He reminded that it was always a matter of urgent delivering humanitarian convoys with food and medical supplies, the bare necessities to the residents of the Eastern Ghouta, as well as the evacuation of children, patients and wounded.
But all this did not work out because of terrorists' interference who used the population of the Eastern Ghouta as a "human shield" and did not allow even patients to leave this area.
According to Major General Igor Konshenkov, Russia has received hundreds of documented reports made by the released residents, who passionately told to journalists, including Western ones, about the outrages committed by militants. Eyewitnesses tell where the humanitarian aid went to, including that of international organizations. Everything was stocked up by militants, where people got nothing of it. The prices for food in Eastern Ghouta are much higher than in Damascus. Peoplestrubbling to make a living were forced to join [the terrorists and fight against government troops. It is to be reminded that militants acted likewise in Aleppo back in December 2016. When the city was liberated from militants, large stores of hundreds of tons of expired food were found there, as well as large storage facilities with medical supplies.
Militants kept all these items in their possession, while peaceful citizens were starving.
Therefore, those representatives of Western countries who are trying to present these militants as "moderate opposition" should understand that
they become accomplices of serious humanitarian crimes.
Today, Aleppo, liberated more than a year ago is successfully recovering. There are markets, social institutions, schools and hospitals. More than
800,000 Syrians have returned to their homes
and live in peace. The official representative of the Russian Ministry of Defence also compared Aleppo with Raqqa liberated by the US-led coalition. The city is ruined, there is no light and no water. Social and medical institutions do not work or are destroyed as a result of the bombing of the coalition aircraft.
The worst thing about Raqqa is that the air temperature increases, and the corpses under the debris decay and get into the soil and aquifers. That is, the epidemiological situation in the city is not serious, but disastrous.
But international humanitarian organizations as well as the US-led coalition that destroyed the city prefer to turn a blind eye to this. Today, no one can arrive in Raqqa, it is not clear who governs the city and who is responsible for the disaster.
"Today the Russian Centre for Reconciliation has managed to create favorable conditions to provide civilians with necessary aid after intensive negotiation process in the Eastern Ghouta", stated Major General Igor Konashenkov.
He also added that today in order to secure work of the humanitarian centre deployed by Syrian authorities, the Russian Defence Ministry provided 4,100 sets of bed linen, pillows and blankets to residents of the Eastern Ghouta at the request of the UN Office. More than 427 tons of food supplies, field kitchens for cooking hot meals to the population of the Eastern Ghouta, as well as bottled water. The Russian military transport aircraft delivered 3,000 more sets of bed linen, as well as tens of tons of food for the residents of the Eastern Ghouta.
"Just before the briefing, I managed to talk with a Russian representative in the Geneva task force for humanitarian assistance to Syria," Major General Igor Konashenkov said. – Yesterday the meeting of this group took place, where the UN coordinator in Damascus in videoconference gave a detailed report about the situation in Eastern Ghouta. He highly appreciated the work of the Russian Center for Reconciliation in Syria at all stages of preparation, negotiation and organization of a safe evacuation of civilians from the Eastern Ghouta. The United Nations representative in Syria confirmed that people are leaving the area controlled by insurgents on a voluntary basis. He also told that there were no violations of humanitarian law by the Syrian security forces securing humanitarian corridors in the Eastern Ghouta."
According to the abovementioned report,
the representative of the United Nations registered numerous complaints of civilians leaving the Eastern Ghouta about abuses committed by militants, larceny of incoming humanitarian aid, medical supplies and interference with evacuation of the population from dangerous areas.
Major General Igor Konashenkov stressed once again that the Russian Center for Reconciliation is now carrying out a unique humanitarian operation, which has no analogues, to help the population of Syria in the Eastern Ghouta.
"Today, more than ever, it is necessary and there is possible to help these people. Not by words, but real deeds," he said. "Since the live footage of daily flow of many thousands of civilians fleeing the Eastern Ghouta is available on the website of the Russian Defence Ministry and on the air of the media,
there has been no real help from those who allegedly wanted to help most – the United States, Britain, France and Germany.
Therefore, it is now clear that they were going to help not civilians of the Eastern Ghouta. "
"Russia has established all conditions to provide assistance to Syrian people. Dozens of citizens of the Eastern Ghouta are in safe areas. However, they need medical supplies, meal, water, warm clothes, and bare necessities. Therefore, the Russian party appeals for the western countries and international humanitarian organizations to move from words to deeds and keep their numerous promises about providing assistance to the population of the Eastern Ghouta," stated Major General Igor Konashenkov.
---