Congress Bucks Obama, Passes Bill Letting 9/11 Victims Sue Saudi Arabia
The White House has hinted at a veto.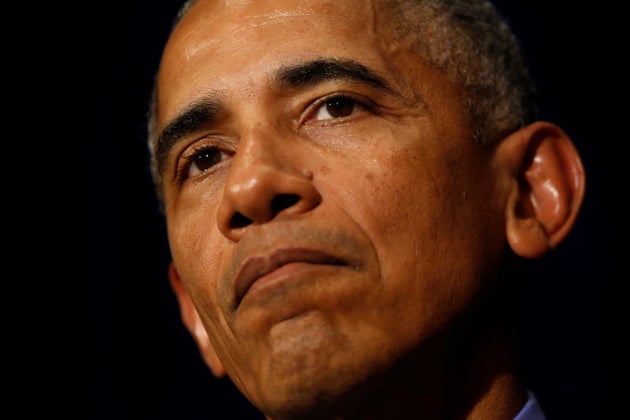 WASHINGTON ― The House of Representatives passed a bill Friday that would allow the families of 9/11 victims to sue Saudi Arabia for its alleged role in the terrorist attacks. The Senate
passed the bill
in May, so it now heads to President Barack Obama's desk for his signature.
The White House did not want this to happen.
The bill, known as the Justice Against Sponsors of Terrorism Act, would prevent Saudi Arabia and other countries with alleged ties to terrorist groups from invoking their legal immunity in U.S. courts. It would override the 1976 Foreign Sovereign Immunities Act, which grants immunity to countries that aren't designated state sponsors of terrorism.
New York courts routinely dismiss claims filed by families of 9/11 victims against Saudi Arabia for allegedly helping to finance the terrorist attacks. Saudi Arabia denies any role in the attacks, though 15 of the 19 hijackers were Saudi citizens.
Obama administration officials have been trying to stop the bill for months, warning that it would put Americans overseas at legal risk, and leave the United States vulnerable in court systems around the world. The White House is also well aware of threats by Saudi Arabia to retaliate against the bill becoming law by selling off
hundreds of billions of dollars in American assets.
"It's difficult to imagine the president signing this legislation," White House press secretary Josh Earnest said in May.
It's a rare case of Obama being at odds with leaders in his party. There's strong bipartisan support for the bill in Congress, and lawmakers appear to have the votes to override a potential veto. The Senate passed the bill unanimously, and the House passed it Friday on a voice vote with no opposition.
"I'm pleased the House has taken this huge step forward towards justice for the families of the victims of 9/11," Sen. Chuck Schumer (D-N.Y.), a sponsor of the bill, said in a statement. "There are always diplomatic considerations that get in the way of justice, but if a court proves the Saudis were complicit in 9/11, they should be held accountable. If they've done nothing wrong, they have nothing to worry about."
The bill's passage comes two days before the 15th anniversary of the 9/11 attacks.
White House press secretary Josh Earnest said in an email on Friday that "our position has not changed" on the bill, which suggests a veto is all but certain.
Sens. Schumer and Richard Blumenthal (D-Conn.)
wrote to Obama
later
Friday
urging him to sign the bill into law.
"We recognize that your Administration has expressed concerns that Saudi Arabia could react negatively if the United States passes this measure," they wrote. "If Saudi Arabia had no involvement with the attacks, it has nothing to fear from litigation. On the contrary, a court proceeding would allow it to demonstrate its innocence in a neutral, public forum. If Saudi Arabia was culpable, it should be held accountable."
They're not the only ones appealing to Obama to sign the bill. Lorie Van Auken, who lost her husband, Kenneth, on 9/11, said the passage of the bill just days before the 15th anniversary of the attacks had added resonance.
"The fact that it's September, and the air is the same and the color of the sky is the same — I think we all feel it," said Van Auken, who was one of the "Jersey Girls" whose early quest for answers led to the creation of the 9/11 Commission.
She was among the people cheering in the House visitors' gallery when the bill passed. But she said their joy was immediately tempered by the idea that Obama could veto the measure.
"I hope President Obama signs it, and sends the message that you can't just attack us and get away with it," Van Auken said. "I hope he does the right thing. We deserve our day in court."
Michael McAuliff contributed reporting.
POLITICS
Clinton Leaves 9/11 Ceremony Early After Feeling 'Overheated'
Her campaign says she is resting at her daughter's apartment and feeling better.
Democratic nominee
Hillary Clinton
abruptly left a memorial event in New York City on Sunday morning, sparking reports that she had fallen ill. The Clinton campaign later said that she felt overheated and went to recuperate at her daughter's apartment.
"Secretary Clinton attended the September 11th Commemoration Ceremony for just an hour and thirty minutes this morning to pay her respects and greet some of the families of the fallen," a statement from the campaign read. "During the ceremony, she felt overheated so departed to go to her daughter's apartment, and is feeling much better."
The incident took place at a crowded ceremony in downtown Manhattan, with temperatures in the high 70s and low 80s. According to reports, Clinton departed from the memorial without her accompanying press corps. The campaign initially declined to tell reporters where she was headed and speculation ensued that she had been whisked away in a health-related episode. Details of what actually transpired are scant.
But in a video of the incident ― the authenticity of which has not been confirmed ― Clinton appears to buckle at the knees as she moves from the curb into her car, requiring the help of aides and what appears to be an agent to get into the vehicle. Hours later, additional video showed her looking refreshed as she left her daughter Chelsea's apartment.
"I'm feeling great," she said, waving to the cameras. "It's a beautiful day in New York." She later headed to her home in Chappaqua, New York.
The episode will likely spark further attempts by Republicans to question Clinton's fitness for office. GOP nominee
Donald Trump
has repeatedly insinuated that Clinton is in poor health, a storyline that conservative outlets like the Drudge Report and Fox News' Sean Hannity have pushed.
There has been little evidence to support these claims. Clinton suffered a concussion in 2012 from a fall that her doctor said was due to dehydration. As Clinton, 68, launched her presidential campaign in 2015, her longtime physician, Dr. Lisa Bardack, released a statement on her health, writing:
Mrs. Clinton is a healthy female with hypothyroidism and seasonal allergies, on long-term anticoagulation. She participates in a healthy lifestyle and has had a full medical evaluation, which reveals no evidence of additional medical issues or cardiovascular disease. Her cancer screening evaluations are all negative. She is in excellent physical condition and fit to serve as President of the United States.
Trump, who at 70 is two years older than Clinton, also released a letter from a doctor late last year, which stated that the businessman's health was "extraordinarily excellent." The physician, Dr. Harold Bornstein,
later said he wrote the letter
in just five minutes, while a Trump limousine waited outside his office.
Trump is set to appear on Dr. Oz's television show this week to discuss his "personal health regimen."